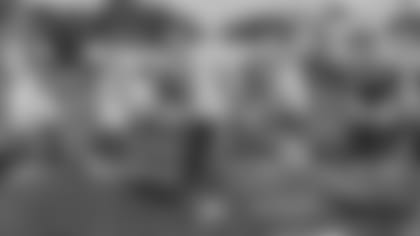 To put it straight, competition is just plain part of the game. And while many eyes have set their focus on the highly anticipated quarterback competition, there is another position group that is shaping up to have one of the most intriguing battles on the Jets roster.
Dubbed the "deepest" group that wide receivers coach Karl Dorrell has had during his four-year stretch with the Green & White, more than half of the 12 pass catchers are returning from last season. While the competition may be tight, there are two — Robby Anderson and Jermaine Kearse — who are coming off breakout seasons.
"I think it's turned up a little bit, but we all complement each other in different ways," said Anderson. "We're all working on our own little crafts and things like that."
The 6'3" speed machine gained attention after finishing his 2017 stint with a personal-best 63 receptions for 941 yards and seven touchdowns. Entering his third season in the league, Anderson is working on becoming a more complete wideout. Across from him, the 6'1", 209-pound Kearse also recorded career highs with 65 catches, 810 receiving yards and five touchdowns.
"We've got a lot of playmakers. The competition is tight," said Kearse, the 28-year-old veteran who has held an important leadership role inside the locker room since his arrival nine days before the 2017 regular season. "We want to see everyone succeed. We're just trying to encourage each other and continue to be successful while competing at the same time."
Quincy Enunwa, who returned Sunday after being slowed with a hand injury, looked explosive early in camp after missing a full year due to a neck injury. Terrelle Pryor, a 6'4", 228-pounder who has turned heads with his athleticism, has participated in team drills after an ankle injury limited him last season in Washington and in the spring.
Beyond the impactful players on the surface, the battle goes deeper than just the top four. ArDarius Stewart and Chad Hansen, third and fourth-round picks respectively in the 2017 draft, have shown flashes and would like to make a push here in the second half of training camp.
Veteran Charles Johnson opened his Jets career with a touchdown catch from rookie Sam Darnold — the QB's first TD pass as a pro — in the 17-0 win over the Atlanta Falcons. Both Andre Roberts and Lucky Whitehead double as returners and Charone Peake could also boost his chances with strong play on special teams. Tre McBride has bounced around a bit, but he'd like to find a permanent home. Jonah Trinnaman has speed to burn.
There is depth within this wide receiver group that's going to make it tough to narrow down the list. That's not necessarily a bad problem to have.
"I couldn't be any more pleased in what they're doing. This is going to be a really tough decision for us," Dorrell said. "There's so many close, close competitions in terms of really bringing out the best in this group. There's a lot of guys that I have, fortunately for us, that are capable of playing in the league."