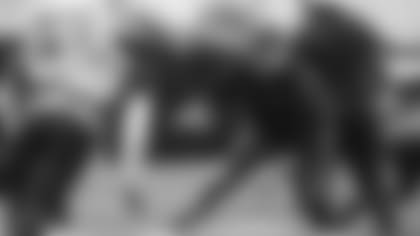 Robert Saleh assembled his coordinators to coach up his first team as an NFL head coach by using variations on a theme.
He knew OC Mike LaFleur quite well, having coached alongside him at San Francisco for the previous four seasons. He had no "past" with special teams guru Brant Boyer but heard great things about him from his five seasons guiding the Jets' specialists.
Saleh went further back with Jeff Ulbrich, to the 2011 season when both were "assistant assistants" with Pete Carroll at Seattle. The Seahawks went 9-7 that season but their defense was a top-10 unit en route to No. 1 in several categories, including the Super Bowl victory at MetLife Stadium after the 2013 season.
The two didn't get coach together after '11, with Ulbrich ultimately going to Atlanta, but they stayed in touch.
"We've always had a longstanding relationship," Ulbrich said recently in his first remarks with reporters as the Jets' defensive coordinator, adding that since Seattle, "we've stayed in constant contact, always shooting ideas back and forth to each other. I'm really excited to see where he's taken this defense and where he's evolved it."
That's because while Ulbrich is the coordinator, and while Saleh announced early on that he would not be calling the defensive signals, Ulbrich is teaching and coaching the Saleh/SF 4-3 scheme to this group of Green & White defenders. Ulbrich explained it this way:
"I think a big part of it was the fact that I was going to come here, and we had a similar belief system in that this was going to be about technique and simplicity, and then at the same time, I wasn't going to get in the way of running the stuff that they had in San Francisco. Yeah, I'll add some wrinkles, but the foundation of this is what Robert grew it into in San Francisco.
Saleh said it's not all a one-way street. Some of Ulbrich's scheme as the Falcons' linebackers coach under Dan Quinn will flow back into the Niners system.
"Jeff's got some recall and he's got a lot of great thought and information and scheme that he can bring," the head coach said. "So a lot of the Atlanta stuff is going to be a part of this, along with the San Francisco stuff, if you want to call it that, and what we're bringing here. It's going to be a good marriage in terms of not only philosophy but scheme."
Did Ulbrich have a little something to describe how that scheme will look on the Jets this season? Why, yes he did.
"It's going to be based upon principle, on technique, on effort and toughness and really the essence of this game," Ulbrich said. "We're preaching this to the players now that it's going to be about them and it's not going to be about us. We're not going to give them magical calls that get them out of things. They're just going to understand these defenses at the highest level and the techniques within the defenses at the highest level, and that going to be the last level, the secret sauce. Simplicity, though, and players first."
One more ingredient in that sauce is Ulbrich's personality. He's fiery but not an old yeller. That comes from his decade as a 49ers linebacker.
"I don't believe in a lot of yelling in the meeting rooms or on the practice field," Saleh said of the Ulbrich style. "Even on the practice field it's about teaching. And the moments that you see, the moments of energy are celebrations. They are not butt-chewings, if you will. It's an understanding of all the work that just went into each other — players, coaches, everybody. So when great things happen on the football field, the excitement that you see is for the player more than it is for anything else."
"Hopefully it's a relationship where we just feed off of each other and bring it every day," Ulbrich said. "He's a head coach now, but obviously he's going to be extremely involved with the defense. Whether it be in the classroom or behind the scenes, he's going to be a part of everything we do."
Ulbrich, Saleh summed up, "is pure energy, he's real, he's a guy's guy. And it's awesome that we have him here."