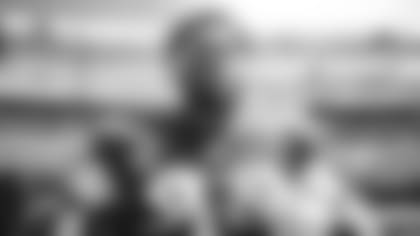 Jamal Adams is wired differently. He is in constant motion, playing at a speed few can match. Since being taken by the Jets with the sixth overall pick in the 2017 NFL Draft, Adams has gotten better in each of his first three seasons and in 2019 he became arguably the best safety in football.
"When I touch the field and it's gametime, it's a totally different mindset," he said. "I turn into a different human being. I live by it, I breathe by it, I practice like it, I work hard like it and it shows."
Adams was named a first-team All-Pro, earned his second Pro Bowl invitation and captured his second consecutive Curtis Martin Team MVP award after a havoc-wreaking campaign. He set a franchise record for defensive backs with 6.5 sacks and he paced the defense in tackles (91) and QB hits (17). The 6'1", 213-pounder also recorded 8 pass defenses and 2 forced fumbles and had TD returns following an interception of Patriots QB Jarrett Stidham and a strip-sack and subsequent fumble recovery of Giants QB Daniel Jones.
"A lot of people see what's going on down around the box and around the ball," Adams said. "A lot of times the ball isn't thrown my way or I'm just not near it because I'm taking out the best tight end or receiver or whomever it is. At the end of the day, that is a goal of mine to get the picks up because everyone talks about interception statistics. But as long as I'm impacting the game the way I know I can and we're winning ball games, I'm OK with it."
Months before the regular season commenced, Adams was challenged by defensive coordinator Gregg Williams. The Jets' defensive signal-caller told him that he had coached a lot of players better than Adams and the prideful defensive back responded with his most impactful season yet.
"G-Dub is a fiery guy, he's a guy who keeps everybody accountable and you can't ask for anything else," said Adams, who missed two games in December with a sprained ankle. "For a defensive coordinator to bring that energy each and every day, there's never a letdown. He's going to be him and he's going to continue to be him and you can only respect that."
They were a perfect match for each other because Adams is never downshifting. He is a sure tackler whose pass-rushing prowess was highlighted in Williams' system. Combining excellent instincts and unique athleticism, Adams often won at the snap, had the speed to get by linemen and was just too powerful of a locomotive for backs to stop. A student of the game, his route recognition was on point and he graded out as PFF's No. 7 safety in coverage efficiency (min. 80% snaps played).
"He's just scratched the surface on what he can do, and he played pretty well and I am proud of him," Williams said of Adams this season. "But more importantly, proud of his leadership. We've said this before in here, if you want to be the all-type of leader, you have to be at the top of our profession. You have to set the example first through doing it, before you say it. People pay attention to you when you do those types of things and you do your job, now they're going to listen. And he has been (a leader)."
When the Jets were 1-6, multiple teams inquired about Adams prior to the NFL's trade deadline. But the Green & White never came close to moving him and GM Joe Douglas has said he's looking forward and is excited the playmaker is a Jet. Adams, whose father, George, was a Giants running back, has said multiple times that he believes it's his calling to be here and he wants to bring a Super Bowl to the organization.
"A legacy is everything. Obviously it hasn't been going the way we wanted it to be here since I've been here. But it's the foundation, we're building it," Adams said of the Jets' 6-2 finish. "We're stacking each brick each and every day and we're going to continue to do that, continue to get better and that's how you leave your legacy. Obviously you want to leave your legacy as an individual, but as a team, as an organization, you can build a beautiful legacy and that's what we're shooting for."