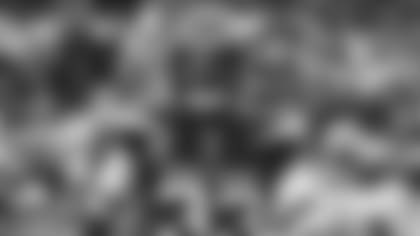 Is making the Pro Bowl becoming old hat for Jamal Adams? Not exactly.
"I was sitting down in my living room last night with my brother, who is my chef, and we were just watching it and relaxing," Adams said of the Pro Bowl roster reveal show on NFL Network on Tuesday. "It wasn't really a reaction like last year, but it's all so good that I can go out there and represent this organization.
"Don't get me wrong, I don't take it lightly. And I'm excited to go back out there.":
Adams was named to the AFC Pro Bowl squad for the second straight December, and as an all-star starter for the second straight year as well. Perhaps in Orlando on Jan. 26, he'll wrangle up another game Defensive MVP award as well.
But for now, as happy as No. 33 is about a glamour game a month away, he's more hopped up to possibly be returning to action on Sunday when the Jets host the Steelers at MetLife Stadium. He missed the past two games with the ankle injury he sustained at Cincinnati. He said that "the chances of me playing this week are very high."
"The past two weeks, I'm not going to lie to you, man, I was in a real low place," he said. "I've never had this game taken away from me, so it was tough just sitting on the sideline, not being out there, not practicing with my brothers. Just practicing today, man, I was like a little kid. You never take things for granted that you love, and when you do get those things taken away, it makes you look at it a little bit different."
That quote captures a few of the reasons Adams wants to get back on the field. Then there is the competitor in him who knows that before he got hurt, having amassed 6.5 sacks, there was a good shot for him to pass Cardinals safety Adrian Wilson, who had 8.0 sacks in 2005, and set the NFL single-season sacks record for DBs.
In fact, with two games to go, against Steelers rookie Devlin Hodges and Bills second-year man Josh Allen, he still likes his chances.
"I'm not going to tie it," he said simply. "I'm going to break it, no doubt."
But one more factor at play also looms large for the emotional Adams and that's the Jets as a team. No matter they're sitting at 5-9 and "playing out the string" while the Steelers will come to MetLife, along with a strong contingent of their traveling fans, at 8-6 and trying to finish a regular-season stretch run into the AFC postseason grid.
"It's two playoff games for us," Adams countered. "We don't go out there to lose ballgames, no matter the record. I see a lot of people say we might as well tank, and ... nah! To hell with that. We're going out there to win. I'm treating these, everybody in the building is treating these like two playoff games."
He segued into a conversation he was having with CB Brian Poole, who's also missed the past two games in the NFL's concussion protocol.
"Me and Poole, we were talking about these last two games being out, and him and I had a lot of conversation. It was just us talking, like, these last two games are playoff games and we're out for war. It's going to be fun, the atmosphere's going to be fun. I know they're going to bring a lot of fans, so we're looking forward to it."