One hundred receptions in a season. These days, that sounds so close, and yet so far.
Close because it happens quite frequently in the pass-happy NFL, on average almost four times a season for the past 20 years.
Yet far because no Jets pass-catcher at any position has ever done it. And no Green & White tight end has been anywhere close since Mickey Shuler in the mid-Eighties.
So what say you, Jace Amaro?
"I think of course it's definitely attainable," said our second-round TE from Texas Tech.
Now don't get excited one way or the other, fans. Amaro wasn't predicting or guaranteeing, and he's focused on team goals first and foremost. I asked him some questions in the past week about 100 catches because he is the most recent Jet to have done that — his 106 catches with Tech last season were the second-most ever by a major-college TE — and, in keeping with the Red Raiders' one-word catchphrase, "Fearless," he's not afraid to tackle some big questions.
"I know my first year's going to be tough. It's always tough and if someone says it's not going to be, then they're crazy," Amaro said. "So I'm just going to come out here and play my game and do what I'm asked to do and do it the best way I can.
"I'm not saying I'm going to catch 100 balls. It's really just a goal of mine. Like I've said before, it could take five years, it could take 10 years. I think of course it's definitely attainable. I've done it before and I think I can do it again. But I haven't done it at the pro level so I think right now I'm just shooting to play my game."
That was the 6'5", 265-pounder's approach when he left MacArthur High in San Antonio, Texas, as a four-star tight end prospect to ply his trade for Texas Tech. His first two seasons were underwhelming with 32 receptions combined.
Then Kliff Kingsbury arrived on campus.
Jets fanatics will recall Kingsbury's Jets playing days — that is, if they didn't blink. KK was a record-setting QB for Tech who then became a sixth-round pick by Bill Belichick and the Patriots in 2003.
Unlike the Pats' sixth-rounder in 2000, Kingsbury didn't stick around Foxboro long and came to the Jets for part of '05. His only action with us was for two end-game plays, two passes and one 17-yard completion, in the 27-0 loss at Denver later that year.
But Kliff has been a meteor as a collegiate coach, developing Case Keenum into a record-setting passer at Houston, then Johnny Manziel into a freshman Heisman Trophy winner for Texas A&M.
And last year he took over Tech's reins and began to work with Jace Jordan Amaro.
"I think Coach Kingsbury's first conversation with me was, 'Get ready to catch 100 balls.' When he told me that, I was like, 'Are you crazy? A hundred balls?' That was the vision he had. He'd say, 'I'm leaning on you. I need you to catch 120 balls this year if we'll have a chance to win.' He would be on me and he treated me like I was a freshman. That really helped me out a lot and advanced my game."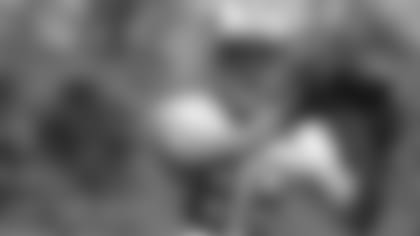 Amaro responded as the point man in the "Air Raid" offense. His 1,352 receiving yards set the FBS single-season tight end record and his catch total also nearly set an FBS single-season TE mark. He opted to leave after his junior year and parlayed his numbers and his skillset into becoming the 49th overall pick.
He joins a Jets offense that is as promising and yet as green as he is. As coordinator Marty Mornhinweg said recently, "Offensively, it feels like we're just light years ahead of where we were last year, but we can't let that trick us into thinking that we're any better at all yet."
That's the same approach Amaro is taking, to last month's rookie minicamp, to the OTAs he's now participating in, and to his pro career ahead of him. He's equal parts optimism and realism.
"It's going to take time," he said. "But in college I just kept on getting better and better. I've never really been able to peak out. Every single year I've learned, I've gotten better in one area, and that's just really helped me take my game to the next level, whether it was catching the ball or route-running or something similar."
As for 100 receptions, Amaro knows he's got many other priorities before he is in a position to even ponder such an achievement.
"It's just a mindset more than anything," he said. "If I plan on catching that many balls, I'm going to make sure I catch every ball thrown my way. It's not really an I'm-gonna-do-it kind of thing, it's an I'm-gonna-do-everything-I-can-to-make-it-happen kind of thing."