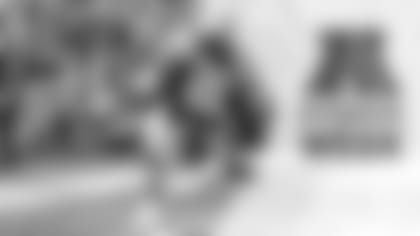 After rushing for a franchise-record 219 yards against the Broncos and being named AFC Offensive Player of the Week, Jets running back Isaiah Crowell deflected the credit to his blockers and the team's offensive signal caller.
"It means a lot to me," Crowell said. "Really, I just want to congratulate my O-line because without them, I wouldn't be able to do that. They were opening up holes all game and I felt like JB (coordinator Jeremy Bates) basically committed to the run and I feel like our O-line did their thing."
Down 7-0 in the first quarter, the 5'11", 225-pounder changed the tenor of Week 5 and maybe the season with a 77-yard touchdown run to tie the game. 
"Basically, we ran that same play the drive before and [running backs] Coach Stump [Mitchell] told me, 'On that play you could've looked to the outside. Do what you do, but just pay attention to it.' So we ran the play again and I looked to the outside. Same thing – made the corner miss, made the safety miss."
Crowell not only set the team's single-game rushing record, but he also had a 12-yard catch and established the franchise yards from scrimmage mark with 231. Crowell, who had a 54-yard scamper in the second half, averaged a staggering 14.6 yards per carry. That is the best average for all the 273 players in NFL history to have run for at least 180 yards in a game. But it wasn't just Crowell who did damage as Bilal Powell also chipped in with 99 yards on 20 carries and the Green & White's 323 yards on the ground was the second-best total in franchise annals.
"For the confidence of the offensive line, it was great," left tackle Kelvin Beachum said on Inside the Jets with Eric Allen and Erik Coleman. "It meant everyone was on the same page this particular play. Our running back made us look good. I know he talks about us making him look good, but he really made us look good with an opportunity like that."
Two weeks after veteran Matt Forté retired, the Jets quickly filled the backfield void with the free agent singing of Crowell in March. He has paid immediate dividends, topping the century mark a pair of times. The fifth-year veteran , who currently ranks third in the NFL with 390 rushing yards and is nominated for the FedEx Ground Player of the Week, is on pace for 1,248 yards. After Sunday's ground gains, the Jets rank sixth in the NFL in rushing (135.0 Yds/G) and they are tied for first in carries of 20+yards with six.
"If you give Cro a hole, he runs his butt off," center Spencer Long said. "That guy is a work horse back there. Him and BP were running real well today."