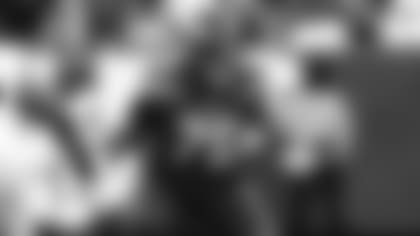 It is sometimes hard to remember this season that the Jets have been taken down and are being built back up by GM Joe Douglas, HC Robert Saleh and their staffs.
"You always want more wins," Saleh said at the start of Dolphins week, "but the amount of young guys who've gotten to play this year, the rookies who have gotten a lot of the snaps, the second-year guys. ... Results aside, you look at it as a whole. Everyone that has been getting playing time has gotten a lot better."
Saleh pointed to the secondary, where "there's been a lot of growth," and to the offense, where, "until this week really hadn't suffered the injury bug. So they've been able to stick together and really grow."
One way to measure growth is game performance stats, which we do at ITN on a weekly basis. But let's take a look at just the Jets' rookies and their participation numbers — the snaps they've been getting this season.
The Green & White have three players with 500-plus scrimmage snaps (excluding special teams snaps) in LG Alijah Vera-Tucker (864), CB Michael Carter II (585) and QB Zach Wilson (519). That's the most after 13 games since 2013.
Add in WR Elijah Moore (476), CB Brandin Echols (475) and RB Michael Carter (343) and that gives the Jets six players with 300-plus scrimmage snaps, their most through 13 games since 2006, which is the first season that reliable play counts have been available.
Now let's throw it open to a full season's worth of reps. Below are all Jets rookies who got at least 700 scrimmage snaps from 2006-20 (plus one more to make it an even dozen players):
Table inside Article

| Jets Rookie | Year | Snaps | Jets Rookie | Year | Snaps |
| --- | --- | --- | --- | --- | --- |
| S Jamal Adams | 2017 | 1,036 | QB Sam Darnold | 2018 | 785 |
| S Marcus Maye | 2017 | 1,001 | DL Leonard Williams | 2015 | 779 |
| CB Darrelle Revis | 2007 | 998 | G Brian Winters | 2013 | 744 |
| QB Geno Smith | 2013 | 954 | CB Dwight Lowery | 2008 | 722 |
| QB Mark Sanchez | 2009 | 907 | LB David Harris | 2007 | 721 |
| DL Sheldon Richardson | 2013 | 841 | WR Robby Anderson | 2016 | 690 |
The purpose of this list isn't to look at "all the ones that got away" or to say that any 2021 Jets rookies will turn out like Revis or Harris. But they were all pro contributors and nine of the 12 (not including Revis, Harris and Sanchez, who are no longer playing) have contributed to their teams this season.
The Jets are committed to finding these types of contributors from the youth in the Class of '21 and then carrying them and the rest of their young group forward into the coming seasons. Assuming health the rest of this year, they will have three 700-snap rookies (Vera-Tucker, Carter II, Wilson), two in the 600-snap range (Moore and Echols), and Carter at around 480 offensive snaps.
"I don't know what the answer is in terms of this is the fifth time I've been part of a rebuild," Saleh said. "That first year is always a little bit bumpy, but the second year and then the third, fourth year, you're ready to roll.
"It's a tough one because we want more wins, but the growth is definitely there."
Tour of Florida
The Jets would like nothing less than to finish their first season under Saleh with a victorious trip through Florida. Specifically, they play at Miami on Sunday, then home for Jacksonville and Tampa Bay. It's the first time the Jets have played three consecutive games, home or away, against Florida opponents.
Since the Dolphins were born in 1966, the Buccaneers came aboard in 1976 and the Jaguars arrived in 1995, the only time the Jets came close to playing three games against Florida teams was in 2005, when they topped the Dolphins in Week 2, lost two QBs (Chad Pennington and Jay Fiedler) and the game in OT to the Jags in Week 3, and rebounded to beat the Bucs behind Vinny Testaverde in Week 5, all at home.