It's of no comfort now but the Jets put up a strong defense against Jay Ajayi.
Ajayi entered last Sunday's game trying to set an NFL record with his third 200-yard rushing game. He never got close, and until the Dolphins' four-minute drill (actually the last 2:54), he had been held to 67 yards on 20 carries, with 20 of those yards coming on his early TD burst.
And pertinent to today's lead item, Ajayi was tackled for loss, or "stuffed," six times and the Dolphins eight times on the day.
"I think every game we pride ourselves on stopping the run," said DL Leonard Williams, who stuffed Ajayi twice and leads the defense not only with six sacks but also with six more tackles for loss. "So we were going to pride ourselves even more against a team that prides itself on running the ball."
Williams gave some nice analysis on the battle between the NFL's No. 4 run defense and its No. 1 rusher.
"We studied them a lot," he said. "They're not like a downhill blocking team. I mean, the running back definitely runs downhill but their offensive line blocks sideline to sideline. One thing we realized watching film was that if the D-linemen end up running sideways with the O-linemen, that's when they get a lot of yards. We worked on just penetrating. I thought that messed them up a little."
The bottom line to today's statistical sermon is that the Jets' eight TFLs on running plays were their most in a game since at least 2000. They had seven in several games — vs. Philadelphia last year, vs. Pittsburgh in '07, at Buffalo in '04 — but nothing higher.
Next up Sunday is the Rams' Todd Gurley, who's struggled in his second season to 3.1 yards/carry. But Williams said he and his fellow run-stoppers will be ready.
"He's a great running back. I came out with him and I know the guy pretty well and he's cool," Williams said. "He's a competitor and he's not going to give up from a few TFLs."
Driving ForceAnother perhaps counterintuitive trend from the Miami game is that the Jets offense assembled four 70-yards-plus drives against the Dolphins. With four such drives at Cleveland, that's eight 70-plus drives in consecutive games for the Green & White.
Does that sound like a lot? Consider that the last time the Jets did that was last year in Games 5-6, vs. Washington and at New England. Before that, we have to go back to Joe Namath and 1972. Joe outdueled Johnny Unitas and the Colts in their classic Game 2 battle at Baltimore that year and one reason was the Jets' five long TD drives. The next week at Houston they added three more 70-plus marches.
Ryan Fitzpatrick, who directed three of the drives to two field goals and an interception against the 'Fins, saw the good and the not so good in this distinction.
"I think we've done a decent job of that," he said. "The focus right now is finishing a lot of those drives. We've had some where we did come away with touchdowns, but some have been disappointing. I think some of it shows the hard work and attention to detail the guys are putting in. We're becoming a little more efficient. But there's still a lot of work to be done."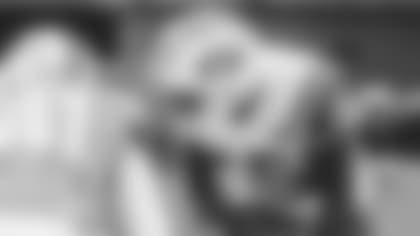 Brandon BookkeepingThe Elias Sports Bureau made revisions to two plays vs. Miami that rippled through several areas of the Jets' stats.
The most noteworthy change was the play on which Brandon Marshall was horse-collared by Miami DE Andre Branch, which went from a pass and catch for a yard loss plus a 15-yard penalty into no play and a 14-yard penalty. So Brandon lost a catch but gained a yard and Fitzpatrick also lost an attempt and completion and gained a yard.
But the second-quarter sack of Fitz was changed from a 6-yard sack to an 8-yard sack so among the results are that the Jets lost an offensive play and lost one net passing yard.