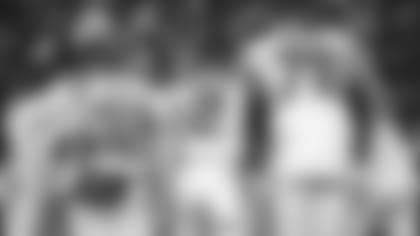 We'll wrap up the 2021 season with a three-part Inside the Numbers series. Today's ITN deals with several offensive statistical notes, next week we'll move to defense, and we'll wrap up with special teams in two weeks.
Zach and the Offense in Fourth Gear
There weren't many offensive highlights at Buffalo but one easily stood out with Wilson's pinpoint slant route that Keelan Cole took 40 yards for his first touchdown as a Jet.
"Yeah, it was awesome," Wilson said after the game. "They had the safety coming down to play the hole, and I just tried to trust it and put one on his body and Keelan did a great job of cross-courting that one and taking it all the way. Just a good job of him winning the one-on-one.
Besides the matchup, the play may have said something about Wilson, despite the game- and season-long adversity, keeping his cool for one more fourth-down completion.
As far as trivia goes, that was Wilson's third fourth-down TD pass of the season, after completing a pair of fourth-and-goal 1-yard TD tosses, to Ryan Griffin against the Eagles and Conor McDermott vs. the Jaguars..
And the 40-yard distance at the Bills tied that play for the second-longest fourth-down passing touchdown in franchise history. Here are the top three:
Table inside Article

| Year, Game | Opp | Dn-Dist | Jets QB | Jets Receiver | Yards |
| --- | --- | --- | --- | --- | --- |
| 1994 Gm 8 | @ IND | 4th & 1 | Boomer Esiason | Rob Moore | 41-t |
| 2008 Gm 4 | vs ARZ | 4th & 1 | Brett Favre | Jerricho Cotchery | 40-t |
| 2021 Gm 17 | @ BUF | 4th & 5 | Zach Wilson | Keelan Cole | 40-t |
But while any one fourth-down play can be trivial, and while fourth-down runs and passes combined can be unimpressive (the Jets finished 26th in the NFL with a 43.3% conversion rate), how Wilson has performed while passing on fourth downs is another part of his improvement in his rookie season.
Zach's passing line on that all-or-nothing down is impressive: 11-of-17 for 163 yards, 3 TDs, 0 INTs, 1 sack, and a 135.5 passer rating. Also, Wilson's nine fourth-down conversions via passing have broken the franchise mark of eight set by Ken O'Brien in 1991.
The Jets offense has much to improve on. But if Wilson has a handle on clutch areas like fourth-down passing, fewer turnovers (no interceptions thrown over his last five games and his last 156 attempts) and longer, more productive drives, his second season at the controls should be entertaining.
The Run Also Rises
The second and final item today is a wrapup of the Jets' rushing attack. Just as above, we don't want to give the impression that everything is peachy keen and Gotham Green heading into '22, but the Jets' ground game, for a variety of reasons, did well from Games 10-16 before running into the Buffalo brick wall.
Even including the Bills game, the Jets, with Michael Carter, Tevin Coleman, and sometimes Ty Johnson and Austin Walter contributing behind a line that was coming together before some late-season injuries, averaged 5.19 yards/carry over the last eight weeks of the season, second in the NFL in that span behind only Seattle (5.85) and ahead of No. 3 Indianapolis (5.12).
For the season, the Jets' 4.39 yards/carry was 13th in the league, their best full-season average and their highest league ranking since finishing eighth at 4.50 in 2014. Carter checked in at 4.35 yards/carry, Coleman at 4.24. And Wilson, although he doesn't want to run and didn't tuck it and take off that much compared to other NFL quarterbacks, still averaged 6.38 yards/attempt — the best per-carry average among all QBs this season with at least 25 carries.