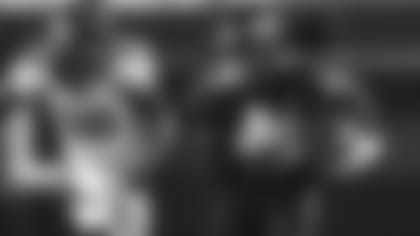 The suspicion here was that Pierre Desir is a better player than he showed in his first three-plus games as a Jet. He had started to put up some nice pick and PD numbers as a three-year starter with the Colts, he has decent size and he's a good locker room guy.
Still there was a benching due to first-game struggles at Buffalo, and against the Broncos on Thursday he yielded two touchdowns. The first was tough to watch as Brett Rypien's long ball fluttered through his outstretched hands and into the breadbasket of rookie WR Jerry Jeudy behind him for the 48-yard score.
But Desir is not one to blow off his mistakes, even when he was asked about the great part of his evening in coming up with two interceptions and returning one for his first pro touchdown.
"On the play for the touchdown against Jeudy, I've just got to make that play," Desir said, again in response to how he felt about his IR TD in the fourth quarter. "I read it, I knew exactly what they were going to do. I just have to come up with the ball. The other one, in the end zone, I just have to put myself in better position.
"It's one of those things that it's bittersweet," he said, finally getting around to his 35-yard dash for cash. "But I've just got to continue to work and make sure I'm on my spot, in my position, and when my number's called, I've got to make those plays."
We'll focus on Desir's picks and the score he made rather than the scores he allowed. Two INTs in the same game, with one going for a touchdown, puts Pierre in a fairly exclusive club in franchise history. Only 19 Jets/Titans defenders have put together a game like that.
CB Otis Smith in fact did it three times in 1997 alone, while Darrelle Revis also did it three times, from 2008-11. As for the 3-INTs-1-TD club, CB Richmond Sowells did it first, at the Baltimore Colts in 1973; S Erik McMillan had three INTs with a TD return — as a rookie, no less, — in 1988 against Dan Marino at Miami, Marcus Turner picked Warren Moon at Minnesota in 1994.
Finally, 25 years before Desir had his 2-and-1 game against Rypien, Jets S Gary Jones did the same thing against Mark Rypien, picking off Uncle Mark twice and returning one for a score in the 1995 Meadowlands Stadium game against the St. Louis Rams.
EZ Does It for Ficken
Jets K Sam Ficken had a night, and his field goal kicking was only the half of it. He is one of the few Jets kickers to go 5-of-5 in FG attempts in a game (his 46-yard second-quarter miss was wiped out by a Denver penalty) and his 54-yard kick early in the fourth period equaled his career long set last year vs. Pittsburgh.
And 54 yards is only 4 yards from breaking the franchise regular-season distance mark of 57 yards set by Chandler Catanzaro at Cleveland in 2017 and a mere 2 yards away from breaking the home mark of 55 yards set by Pat Leahy vs. Chicago in 1985 and matched seven times by three other kickers.
You can also factor into the Ficken equation his touchbacks. He nailed seven TBs on his eight KOs vs. Denver, the third-most in a game in Jets history behind only 9- and 8-TB games by Jason Myers in 2018. And while Ficken was bombing away for the Jets, Denver's Brandon McManus went 8-for-8 in touchbacks, setting the mark for most TBs in a game by an opposing kicker.
Unlucky Plus-3
The Jets executed a relative NFL rarity by posting a plus-3 turnover margin in a loss. Teams with plus-3 margins win about 91% of the time. The Jets historically had won 88% of their plus-3 games, up until the last three such games, all losses — at Jacksonville in 2018, vs. Buffalo in last year's opener and vs. the Broncos on TNF. The Bills and Broncos games are also the only Jets home games that they lost despite a plus-3 or greater TO margin.