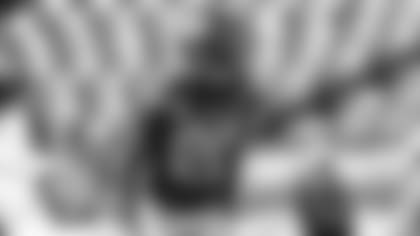 Many Jets fans might have wondered, with Jamal Adams traded to Seattle, where those big safety stats and sticks would come from.
Then Marcus Maye erupted at Buffalo.
For the Jets, it wasn't a pretty opener, but Maye had an impressive log: a game-high 10 tackles, 2 sacks and a forced fumble on a run, all of Bills QB Josh Allen, plus 1.5 more tackles for no gain and two pass defenses, one in the backfield and one in the end zone.
"Talk about a guy that probably did about everything imaginable at the safety position," head coach Adam Gase said, "From blitzing, coverage, coverage from in the box, safety play, breaking up and almost picking a ball in the red zone, doing a great job of identifying what they were doing and anticipating it. ... I don't think there's many guys that can do what he did last week as far as the variety."
The sacks are particularly noteworthy and show that Adams isn't the only safety in the NFL who knows how to take down a QB. Maye's two Allen sacks have him tied for the NFL lead through Thursday night's Browns-Bengals game. The only other players with 2.0 sacks after the first week of play are three DEs — Washington's Ryan Kerrigan, Denico Autry of Indianapolis and Cleveland's Adrian Clayborn. (Adams, meanwhile, had a sack for the Seahawks.)
That puts Maye in even more select company. He's the only Jets DB with at least 2.0 sacks after Week 1 since sacks became an official stat in 1982. And the only Jets with more sacks on opening day were Mark Gastineau with one of his 4.0-sack games, at Indy in 1984 and Leonard Williams with 2.5 sacks vs. Cincinnati in 2016.
As for league leaders, Maye is only the fifth NFL defensive back and fourth safety with 2.0 sacks or more after Week 1 since '82. These are the five DB two-sackers:
Table inside Article

| Season | Player | Pos | Team | Sacks |
| --- | --- | --- | --- | --- |
| 1998 | Rodney Harrison | SS | SD | 3.0 |
| 1995 | Alton Montgomery | S | ATL | 2.0 |
| 2004 | Matt Bowen | SS | WAS | 2.0 |
| 2018 | Tavon Young | CB | BAL | 2.0 |
| 2020 | Marcus Maye | S | NYJ | 2.0 |
All Maye has to do to keep his name among the top safety sackers in the first two weeks of a season is take down the 49ers' Jimmy Garoppolo once on Sunday at MetLife. That would keep him tied with, among others, Harrison and the Steelers' Troy Polamalu at 3.0. As for covering Pro Bowl TE George Kittle, no worries — Kittle's is out of the Jets game with a knee injury.
Crowder YACs It Up
An offensive player who'll miss the NIners with a hamstring pull but who turned on the jets at Buffalo was WR Jamison Crowder. He took a Sam Darnold checkdown at the line of scrimmage, the Jets' 31, and sped past everyone for his 69-yard third-quarter touchdown.
The 69 yards after catch is among the greatest single-catch YAC totals in franchise history. It's impossible to say for sure where it ranks because no video or YAC reporting is known to exist for most of the Jets' long receptions in the '60s and '70s. But the only known longer YACs are 84 yards by Leon Johnson on an 82-yard screen-pass touchdown vs. Indianapolis in 1998 and LaDainian Tomlinson's 75 yards on a 74-yard screen at Oakland in 2011.
Only one Jets WR is verified to have gone 69 yards after one catch before Crowder and that was Jeff Graham, on a 78-yard TD connection with Neil O'Donnell at Miami in 1996.
Another Crowder distinction: He totaled 90 YAC for the game. Since 1997, it's the second-most yards after catch in a game by a Jets wideout, behind only Keyshawn Johnson's 100 yards in the 1999 opener vs. New England. Here are the top five single-game YAC totals by Jets WRs in the last 24 seasons:
Table inside Article

| Jets WR | Game, Opp | YBC | YAC | RecYds |
| --- | --- | --- | --- | --- |
| Keyshawn Johnson | 1999-1 vs NE | 94 | 100 | 194 |
| Jamison Crowder | 2020-1 @ BUF | 25 | 90 | 115 |
| Jerricho Cotchery | 2007-2 @ BAL | 77 | 88 | 165 |
| Eric Decker | 2014-16 @ MIA | 135 | 86 | 221 |
| Brandon Marshall | 2015-13 vs TEN | 45 | 80 | 125 |