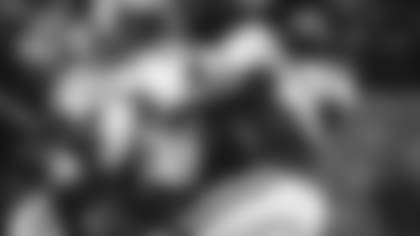 Jordan Jenkins knew from personal experience that the Jets needed to bring the heat against Texans QB Deshaun Watson last Saturday.
"I remember he played against my high school after I left for Georgia, and he beat them by 40 points two years in a row in the playoffs," said the Jets' outside linebacker. "The guy doesn't lose. He's a competitor. We knew if we let him get in his comfort zone it'd be pretty bad."
"We just tried to make sure he felt us, felt our presence," added fellow LB Brandon Copeland.
Watson felt it most from the last play of the first half into the third quarter of the Texans' 29-22 win. In that span, he dropped back on four consecutive pass plays and was sacked all four times — twice by Henry Anderson, once each by Jenkins and Copeland.
"Sacks come in bunches," Jenkins said, "and as you saw that day, the bunches were there."
That bunch was historically significant for the Jets. The last time they sacked a QB four times on four consecutive dropbacks was at Philadelphia in 2003. That was John Abraham's heyday, and in that game, a 24-17 Jets loss, "Abe" had 2.5 of four second-quarter sacks of the Eagles' Donovan McNabb.
The more significant sack bunch is that the six total sacks of Watson gave the Jets 12 in the last three games. The last time they had that many in three games was at the end of the 2014 season.
"As a group, we're kind of on each other every day, we're our own biggest critics," Copeland said in explaining the pass rush's upward trend. "There's always been people outside the locker room talking about pressure-pressure-pressure. We've just kept the same attitude and continued to just keep to our work ethic and we're seeing it come to fruition."
Copeland also reminded how "rush and coverage go hand in hand. So we're just playing off each other, feeding off each other, and hopefully we turn it up a notch this week."
And if the Jets need a goal to shoot for Sunday, how about sacking the Packers' Aaron Rodgers four times? That would put this year's team in a bunch with these five top three-game sack streaks of the last 25 seasons:
| Season | Span | Opponents | Total Sacks |
| --- | --- | --- | --- |
| 2003 | Games 3-5 | @ NE, vs DAL, vs BUF | 14 |
| 2003 | Games 5-7 | vs BUF, @ HOU, @ PHI | 14 |
| 1995 | Games 2-4 | vs IND, vs JAX, @ ATL | 13 |
| 1995 | Games 3-5 | vs JAX, @ ATL, vs OAK | 13 |
| 2007 | Games 10-12 | vs PIT, @ DAL, @ MIA | 13 |
Rodgers, as superb as he can be, still is in a bit of a sack slump, having gone down 19 times in the last five games.
"It's the last two games of the season, so everyone's trying to tee off and leave the season with a good taste in your mouth," Jenkins said. "And it's Aaron Rodgers. He's a golden jacket out there playing ball right now. You get a sack on him, you've got to feel pretty good about yourself."