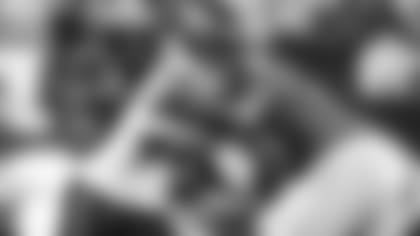 It was one of those nights when not a lot seemed to go right for the home team. Even the defensive players said they didn't play perfectly in contributing to the 27-6 MNF loss to the Chargers. "They put up 27 points, so I don't think it was contained," DL Quinnen Williams said. "We have to find out how to be better."
But a lot went right for the Green & White (with black pants) defense as that unit's reign of excellence continued against Los Angeles. We could mention a lot of player and team facts but here are the bullet points that jumped out in the 24 hours or so of research after the game:
It's All About the Team
■ In allowing the Giants 194 total yards and the Chargers 191, the Jets defense gave up 385 yards in back-to-back games. That's the lowest in consecutive games since they yielded 353 yards to the Bengals in back-to-back games in 2009 (72 yards in the "Win And We're In" Game 16, then 281 yards at Cincinnati in the AFC Wild Card Game). And it's the first time the Jets have allowed less than 200 total yards in consecutive games since earlier in 2009 (194 in Game 12 at Buffalo, 124 in Game 13 at Tampa Bay).
■ The Jets allowed 107 net passing yards (including sacks) to Justin Herbert and the Chargers. Combined with minus-9 net yards by the Giants, the Jets have allowed 98 net passing yards in back-to-back games, tying the franchise mark. The top four two-game net passing yard totals in Jets history:
Table inside Article

| Season, Games | 1st Opponent | 2nd Opponent | Net Pass Yds |
| --- | --- | --- | --- |
| 1967 Gms 10-11 | vs DEN (18) | vs KC (80) | 98 |
| 2023 Gms 8-9 | @ NYG (–9) | vs LAC (107) | 98 |
| 1982 Gms 1-2 | vs MIA (113) | @ NE (–4) | 109 |
| 2009 Gm 16, WC | vs CIN (0) | @ CIN (110) | 110 |
■ In Herbert's 58 NFL starts (including one playoff game), his completion rate of 53.3% (16 of 30) was the fourth-lowest of his career and his 136 gross passing yards was the lowest of his career.
■ The Green & White followed up their franchise-record 11 3-and-outs against the Giants with five more against the Chargers offense. The Jets now have held opponents to three plays and a punt on 30.3% of their drives, which after nine full weeks, is second in the NFL only to the Browns' even more impressive 37.7%.
Flying Off the Edge
We could talk about Sauce Gardner and D.J. Reed teaming up as they did last season for their combined two PDs (Sauce) and one forced fumble (Reed) in keeping a lid on Herbert, Keenan Allen (8 catches, 77 yards) & Co. But today's notes are postcards from the edge:
■ Analyst Troy Aikman said during ESPN's telecast that Bryce Huff "is as good a pass-rusher as there is in the game." And Huff, playing a mere 28 defensive snaps, supported that high praise. He led the Jets with 1.5 sacks and 4 QB hits of Herbert. And his 5.0 sacks lead the Jets (Jermaine Johnson and Quinton Jefferson are both at 4.5) as do his 13 QBHs (John Franklin-Myers is second at 11). At 14.9 D-snaps per QB hit, Huff after nine weeks is No. 1 among all NFL qualifying defenders, striding ahead of the Browns' Myles Garrett (18.9) and the Bills' Leonard Floyd (20.4).
■ JFM, credited with a rare DL combo of three QB hits and three passes defended, is one of only two NFL players this season with at least three of each in a game, joining Chiefs CB Trent McDuffie, who had 3-and-3 at Minnesota in Week 5. Interestingly, Franklin-Myers is the only NFL D-lineman with a 3-and-3 game since 2021, when Raiders DE Maxx Crosby had four QB hits and three PDs against the Chargers at Las Vegas in the 2021 regular-season finale. JFM of course just played the Chargers and will next try to invade the Raiders QB's pocket on Sunday night.
■ Finally, first-round rookie Will McDonald split a sack of Herbert with Solomon Thomas late in the third quarter. It was McDonald's first pro sack, and since Herbert fumbled (and recovered), it was a strip sack. It was the Jets' second strip this season (Quincy Williams had the first, of Russell Wilson at Denver), and it was the first by a Jets rookie since LB Jordan Jenkins' strip of Tyrod Taylor vs BUF in 2017 and the first by a rookie DL since Muhammad Wilkerson's strip of Vince Young at Philadelphia in 2011.