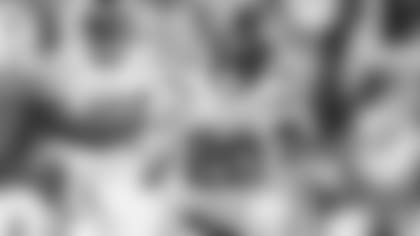 The Jets have a real brother tagteam in Quinnen and Quincy Williams on defense. Then for the offense there's the pseudo-bro tandem of Zach and Garrett Wilson.
Now Michael Carter and MC II have to make room for another both-sides-of-the-ball dynamic duo: Breece and Bryce Hall. They're not related, either, but they played with a familial purpose in providing key plays that made Sunday's 31-21 win over the Broncos possible.
Breece Hall's return from his knee injury in Denver last season to regain the form of his first six-plus games as a Jet has been phenomenal. Head coach Robert Saleh, asked about Breece's eruption at Empower Field at Mile High, had a simple observation:
"He's pretty good, isn't he?"
Here are a few Jets milestones and factoids about Hall's game and season:
■ His 177 rushing yards at Denver are the most in a game in his career and the most by a Jet since Isaiah Crowell's team-record 219 yards vs. the Broncos at MetLife Stadium in 2018.
■ The 177 are the fourth-most rushing yards by a Jet in a road game and the most since Adrian Murrell's 199 yards at Arizona in 1996.
■ The second-year back's 72-yard touchdown run in the third quarter already gives him four career scrimmage plays of 60-plus yards (three runs, one reception). That breaks the tie for the franchise record that he held with Leon Washington, the Jets special teams assistant coach who was a dynamic Green & White RB/returner from 2006-09.
■ Hall started his third quarter with that 72-yarder, then finished it with a 7-yard run that gave him exactly 100 rushing yards in the frame. Appropriately, that was only the third quarter of 100 rushing yards in franchise history. Murrell had the first, 106 yards in the fourth quarter of that '96 win over the Cardinals, and Thomas Jones has the most, 143 yards in the second quarter vs. the Bills in 2009.
■ Before the game we charted up Hall's 6.01 yards/carry career average as second-best by a running back with at least 100 carries in NFL history. Per-carry averages go up and down, and with his 8.04 at Denver, Hall's average has shot to the top of league annals at 6.34 yards/carry.
We could go on, and something tells us we will go on as Hall continues to develop his intriguing career story.
The Bryce Is Right
As for his "older brother," Bryce Hall, the moment wasn't too big for the fourth-year corner even though he was starting his first game and seeing his most extensive defensive action since 2021. He described once again, back at 1 Jets Drive, how that 39-yard victory-sealing fumble return unfolded in Sunday's final minute of play. He started by giving credit to CBs coach Tony Oden.
"TO does a great job of, every time we're in practice, you never know if it's a fumble or not, so we just always go and scoop the ball," Bryce said. "As soon as I saw the ball out, I just sprinted towards it. It was at the perfect moment, right before it came out of bounds, and I was in the right position at the right time. It was really cool how it bounced my way."
Hall then sprinted for the rare game-winner, turning a fragile 24-21 Jets lead into an insurmountable 31-21 advantage. He of course teams up with Xavier Gipson, who unfurled his walk-off punt-return TD for the opening-night win, as Jets returners with late game-winning/game-securing touchdowns. That's another melodic duo. We could call them Hall and X.
If we limit our list to defensive TD returns that either enabled the Jets to tie or take the lead or extend a lead of no more than three points in the last two minutes of a game or in overtime, we have only five such plays in franchise history:
Table inside Article

| Jets Defender | Opp | Year | Scoring Play | Time Left | Final Score |
| --- | --- | --- | --- | --- | --- |
| Greg Buttle | @ IND | 1984 | 4 FUM RET | 1:35 | Jets 23-14 |
| Brian Washington | @ BUF | 1992 | 23 INT RET | 1:41 | Jets 24-17 |
| Shaun Ellis | vs BUF | 2008 | 11 FUM RET | 1:54 | Jets 31-27 |
| Dwight Lowery | vs MIN | 2010 | 26 INT RET | 1:30 | Jets 29-20 |
| Bryce Hall | @ DEN | 2023 | 39 FUM RET | 0:29 | Jets 31-21 |