One of the diamonds in the rough of the opening loss to the Bills was the play of OLB Josh Martin.
The fifth-year 'backer, who last season played almost exclusively as one of the Jets' special teams anchors, has gotten an opening to play defense this season and he had an active first game.
Specifically, Martin was in for three tackles for loss, one of Mike Tolbert and two of LeSean McCoy, plus he added the third half-sack of his career and applied some other pressures on Tyrod Taylor as well.
He did all that on his 38 defensive snaps, and then added a punt-coverage tackle on his 26 special teams plays.
We checked on Jets players who had at least 35 scrimmage plays and 25 ST plays in the same game since 2012. The last front-seven defender to do that was Demario Davis when he was a rookie in 2012. (However, Bruce Carter was in the same double-duty ballpark with 59 defensive snaps and 22 ST snaps at Arizona last year.)
What's the next defensive frontier for Martin? Well, a full sack would be sweet. So would getting his second pro start and his first since his rookie season of 2013 with the Chiefs.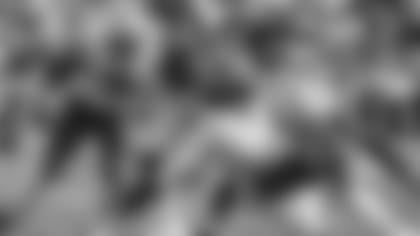 Mo for the BlockReporters sounded the alarm for Muhammad Wilkerson's first game of the '17 season. He had two unassisted tackles, no sacks and no QB hits on Tyrod Taylor last week. D-coordinator Kacy Rodgers was not buying into the concern over the lack of production, saying, "I thought he did what we asked him. We didn't do enough defensively as a whole. I don't think it was one guy. ... I don't highlight him."
Wilk put some of the blame on his shoulders for LeSean McCoy leading Buffalo's 190-yard rushing attack, especially with Marshawn Lynch and the Raiders on the horizon.
"Last week, myself and the rest of the guys, some plays we weren't in our gaps," he said. "We've got to make sure we stay fundamental with that."
We expect Wilkerson to pick up the pace in the coming weeks. Meanwhile, it was good to see at least one other contribution from Wilkerson. It came on the Bills' opening drive, when he slow-rushed Taylor and timed his leap to swat away a pass. We've mentioned it before but updating Mo's rejections, since 2012 he now has 20 pass defenses behind the line of scrimmage. In that span the rest of the Jets accounted for 21 PDs behind the line.
Might Mo get a few rejections Sunday? He batted down two Derek Carr passes behind the line in the Jets' 2014 season-opening win over the Raiders at home, and Sheldon Richardson redirected a Carr pass in '15 at Oakland.
Airing It OutOne game does not a seasoned punter make, but Lachlan Edwards got off to a good start to his second NFL season at Buffalo. Even with a third-quarter shank, Edwards finished with a 49.5-yard gross average, sixth in the league, and a 43.7 net, ranked eighth, on his six punts.
Both averages also were the second-best game numbers of his 17-game Jets career. Keeping in mind that his best gross (51.3) and net (44.3) came in last year's opener at home vs. Cincinnati, we'll want to see more evidence of Lac's progress, but so far, so good for the young man from down under.