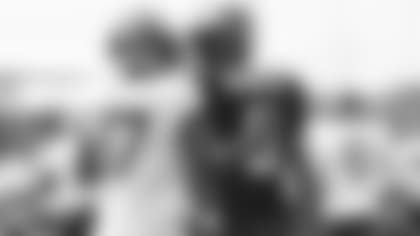 The offseason is over and done with, the preseason games are in the books, not to be dusted off till next summer. Now it's time for the numbers that count.
And while the Jets as a team are trying to post wins and stats that they and their fans can be proud of, players up and down the roster have goals they want to attain and plateaus they seek to climb. Here are a half-dozen of those players and stats heading into Monday night's season opener:
Aaron Rodgers: ARod has any number of numbers he could focus on. Here are two:
Sitting at 59,055 passing yards, Rodgers will become the ninth QB in NFL history, with a mere 945 yards, to reach 60,000 in a career. And with 4,400 yards this season (which of course would be a franchise record), No. 8 would move all the way to No. 6 on the all-time list.
Garrett Wilson: The Offensive Rookie of the Year is already the first Jets rookie with 1,000 receiving yards in a season (1,103). Do it again and he'll join Don Maynard, George Sauer and Keyshawn Johnson as the only Green & White receivers with back-to-back 1,000-yard seasons. And there's this: With his first TD on a pass from Rodgers (Giants game doesn't count), he'll be the youngest first-round draft choice, at 23, to snag a score from Rodgers. (Only other Round 1 pick to do it: TE Marcedes Lewis at the age of 34.)
Quinnen Williams: After setting his personal best of 12 sacks last year, Williams can do damage to some "craft" records set by Jets sackers over the years. Who was the last Jet with more than 12 sacks in a season? Shaun Ellis with 12.5 in 2003. Last to reach double digits two years in a row? Ellis in '03-04 after John Abraham in '01-02. Are 17 sacks within Q's reach? If so, he'd tie Muhammad Wlkerson for 10th-most Jets career sacks at 44.5.
C.J. Mosley: The Jets MLB and captain has been on a tackle tear with a career-high 168 tackles in '21 and 158 last season. With good health, C.J. needs only 86 tackles to get to 1,000 for his career, and a doable 165 to reach 500 as a Jet.
Sauce Gardner: Sauce led the NFL with 20 PDs as the Defensive ROY, but he wants more than the 2 INTs he had last season. The franchise record in a season is 12 by S Dainard Paulson in 1964, but a more reachable number might be most INTs in a season by a Jets corner. Ty Law had 10 in 2005.
Greg Zuerlein: Greg the Leg in '22 equaled Jason Myers' franchise mark of six field goals of 50+ yards in a season. Z also drilled the Jets' first 60-yarder at Minnesota after setting the team's home distance mark of 57 yards the week before vs. Chicago. What's next? How about a home 60 for the game-winner, which would also give him four 60s for his career, tying Dallas' Brett Maher for the NFL record?