We wish Nick Mangold a quick rehab on injured reserve and into the offseason and a return to form in 2017. But his departure gives us a chance to reflect on what can arguably be called the five "eras" of Jets center.
It could be luck or foresight or a mixture of both, but the franchise has had a remarkable run of centers from the Sixties to today, with very little buffer from one to the next.
It began with John Schmitt, the free agent from Hofstra who took over the pivot in Joe Namath's first full year as the starting QB in 1966 and held it without missing a game through 1973.
Next up: Joe Fields, the Jets' 14th-round pick from Widener, who took over the job midway through his second season of 1976 and held it with few hiccups for the next decade.
Then came Jim Sweeney's turn. Sweeney, a second-round pick out of Pitt in '84, started at LG and LT his first four seasons. Ultimately he moved to the middle and didn't depart until after the '94 season.
After a brief hiatus, Kevin Mawae arrived as an unrestricted free agent in 1998 and masterfully took over the center position until an elbow injury in 2005.
Mawae's 125 consecutive starts including playoff games is the Jets' center standard, and Mangold almost matched it. Starting as a rookie on opening day in 2006, Mangold went 89 starts before an ankle injury sidelined him for two games in '11, then reeled off another 59 before another rest.
| | | | | | |
| --- | --- | --- | --- | --- | --- |
| *     Seasons     |   Jets Gms  |           Center           |      Starts     |   Long Strk  |   ProBowls  * |
| 1965-73 | 115 | John Schmitt | 115 | 115 | 0 |
| 1976-86 | 171 | Joe Fields | 152 | 67 | 2 |
| 1988-94 | 113 | Jim Sweeney | 111 | 68 | 0 |
| 1998-2005 | 135 | Kevin Mawae | 125 | 125 | 6 |
| 2006-16 | 179 | Nick Mangold | 171 | 89 | 7 |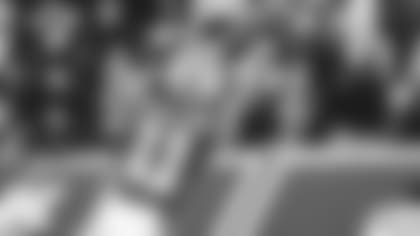 40/40 VisionWas Monday night's game a tiring one for Robby Anderson, the free agent rookie WR who was targeted a career-high 12 times vs. the Colts?
"Kinda," Robby admitted, "but I love this. I'm going to go till I fall out."
Anderson fell down once, but that was a good thing — he tumbled to the turf with the 40-yard TD strike from Bryce Petty in the fourth quarter, his first pro TD grab.
And with that catch, Anderson and Petty, coupled with Matt Forte and Ryan Fitzpatrick, who found each other on a 40-yard catch-and-run in the second quarter, earned a distinction in franchise history. It was only the fourth time the Jets had at least two 40-yard completions in a game thrown by two different quarterbacks. The first three:
■ In the 1962 opener at Oakland, starter Butch Songin hit none other than Don Maynard with a third-quarter longball for a 64-yard touchdown. But Lee Grosscup replaced Songin before and after and found Art Powell with 80- and 64-yard touchdown strikes.
■ Six years later, Joe Namath and Maynard hooked up with Maynard for a 54-yard score, then rested as Babe Parilli came in and connected with Bake Turner (40-yard TD) and Maynard (47-yard TD).
■ This pass oddity didn't happen for the next 40 years, then it occurred on back-to-back pass plays in the 2009 AFC Championship Game at Indianapolis. Mark Sanchez aired out a 40/40 ball (40 yards in the air, 40 after the catch) for an 80-yard score to Braylon Edwards. The next throw by the Jets was by Brad Smith, off a direct snap, for a 45-yard completion to Jerricho Cotchery.