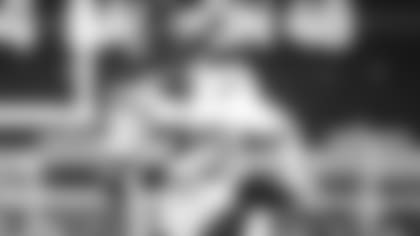 At the early bye week, we thought we'd explore three trends for the Jets as they head into October and the rest of the season — one positive to continue, one negative to put to bed, and one ominous to ignore.
Keep the Turnovers Coming
The Green & White are saddled with a number of low rankings after three weeks, but one ranking is counterintuitively high and that's turnover margin. The Jets have seven takeaways, tied for second in the NFL, three giveaways, tied for ninth, and a plus-4 margin, tied for second. If the Packers got sloppy vs. the Eagles on TNF, they could even be tied for first.
What does that really mean? By itself, not much. No doubt at New England the Jets capitalized on a rookie punt returner's muff for Arthur Maulet's fumble-recovery touchdown and a rookie quarterback's overthrow for Jamal Adams' interception-return TD. So the Jets being plus-1 in their 30-14 loss to the Patriots and plus-4 in takeaways to minus-3 in wins aren't what we'd call corroborative comparisons.
On the other hand, the Jets have gone through some dry turnover periods recently. In seven of their previous eight seasons they'd finished the season with a minus margin, and in five of those the margin was minus-10 or larger. Until the dam broke in the 2018 opener at Detroit, they had gone four years with no defensive scores and one on special teams, and that because the Bills didn't cover a routine kickoff in the '16 finale.
Maybe it's DC Gregg Williams' practice emphasis or HC Adam Gase's preaching — "Turnovers are the key to everything," Gase said. "The whole league is based off it." But the Jets seem to have found at least some TO magic.
It used to be that the NFL team with the plus-margin would win 80% of its games. The last seven years it's under 77% but still, a tendency that can help a team win three out of every four games is something to tap into for as long as you can.
Curse of the Long Fields
With Sam Darnold's illness, the Jets began a few troubling tendencies. One of them was poor field position, which infected them the past two games.
Against the Browns, the Jets' average drive start was their 18.0-yard line. At New England it was the 18.2. Individually, those are the fourth- and fifth-worst drive-start games for the Jets since that stat began to be compiled in 1989. Taken together, the 18.08-yard line drive start combined is the worst in Jets back-to-back games in the last 30 years.
Poor drive starts are caused by weak punt and kickoff returns and strong opponent cover teams, but also by turnovers and by quick outs — not enough by the defense, too many by the offense.
And to show the importance of weak field position, the Jets since '89 are 3-10 when they start drives on average inside their 20, 9-4 when they force opponents to do same. Thus the teams in Jets games whose average drive start is inside their 20 are 7-19 (26.9%).
And don't get us started on average drive start margin. The Browns' average drive start was their 33.6, the Patriots their 40.3. Killer.
Playoffs?? Playoffs??
You may have seen the postseason projections for teams that start their seasons 0-3. It's not good.
Since 2002, when the NFL aligned into eight four-team divisions and established conference playoff fields of four division winners and two wild cards, 81 teams have started 0-3 and only one has climbed to the playoffs — the Houston Texans, who went 11-5 and won the AFC South title last year. Only two other teams made it to 9-7 and no playoffs.
So the Jets' playoff road is bleak. But conversely, once they get past their next three (at Philly, Dallas, New England), they face an interesting final 10 games against opponents that have a combined 8-22 record this year (.267 win percentage). Including that tough threesome just ahead, the Jets' overall strength of schedule is 15-24 (.385), tied for the fourth-"easiest" schedule in the NFL.
At this point, the Jets' approach must be to ignore the P-word. If they get on a Texans-like roll or a 2002 G&W fairytale comeback into playoff territory, that would be great. But more than ever, the Green & White have to be focused on one one-week season at a time. Come late December, we'll see what presents itself.