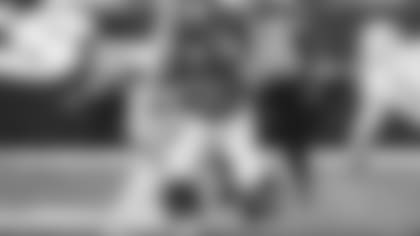 Throughout the offseason, NewYorkJets.com reporters Eric Allen, Ethan Greenberg, Randy Lange, Caroline Hendershot and John Pullano will each give their predictions to a series of questions regarding this year's Jets.
Today's question: How do the Jets match up with the Dolphins?
EA: The Jets have to finish even in turnover differential, at least, and they must limit the Dolphins pass game. The Dolphins are one of only two teams that haven't rushed for 90 yards in a game this season and the Jets defense is third in rush yards per play (3.72). I expect Jets cornerbacks D.J. Reed and Ahmad "Sauce" Gardner to get physical with Tyreek Hill and Jaylen Waddle at the line. The dynamite duo will get their touches and yards, but the key will be limiting the big play, and that means safeties Lamarcus Joyner and Jordan Whitehead, coming off a great game in Pittsburgh, will have to be meticulous with their drop depths and be sure tacklers. Conversely, I like the Jets' matchup with their receivers against the Dolphins 31st-ranked pass defense that continues to miss Bryon Jones, and CB Xavien Howard is listed as day-to-day with a groin injury. The Jets' offensive balance might be the difference because I think they'll get more backfield production from Breece Hall and Michael Carter.
EG: Speed helps win games and the Dolphins have a lot of it on offense, but the Jets match up well. Teams always try to make their opponents one dimensional and the Jets can do that by stopping the run. Miami is one of two teams that has not rushed for 90 yards in a game this season and ranks No. 31 in rushing offense (69.3 yds/g). The Jets rank No. 6 in rushing defense in yards per carry. If the Green & White can win up front with limited numbers, they'll be able to devote more attention to the speedy WR duo of Tyreek Hill, who leads the NFL in receiving yards, and Jaylen Waddle. For the Jets offense, I could see OC Mike LaFleur taking a page out of Buffalo's playbook from their Week 2 game against the Dolphins and target the running backs as receivers to help Zach Wilson with Miami's pressure packages. Although the Bills lost, they gained 497 yards as their RBs caught 16 passes for 146 yards.
RL: Initially I wasn't sure how well the Jets would match up in this game. Tyreek Hill seems unstoppable. Miami's team speed is top shelf. The 'Fins have had the Jets' number for a while. But the matchup has become more favorable, in part because the Jets' mindset got another jolt of adrenaline from yet another comeback win, this one led by newly returned Zach Wilson at Pittsburgh. And the Dolphins have a long injury list. QB Tua Tagovailoa is out, Teddy Bridgewater is in. Hill was just placed on the injury report (quadriceps, limited) while fellow WR Jaylen Waddle is still on the I-list (groin, limited). Meanwhile, CB Xavien Howard (DNP) could sit out, and fellow CB Byron Jones (PUP, Achilles tendon) will sit out. And I'm seeing an old-fashioned air battle: Bridgewater looking for his WRs against the Jets' beefed-up secondary; Wilson and his skill guys, more comfortable and confident, looking for downfield connections against Miami's low-ranked, banged-up pass defense. It won't be Ken O'Brien to Wesley Walker and Al Toon vs. Dan Marino to Mark Clayton and Mark Duper. But I could envision something close
CH: The Jets may be more closely matched up with the Dolphins than many people realize. The Jets offense ranks eighth in the NFL while the Dolphins defense is No. 28. The Jets are ranked fourth in passing offense while the Dolphins' passing defense is ranked No. 31 and the Jets rank seventh in takeaways while the Dolphins rank fifth-highest in giveaways. What will really determine the result is the Jets secondary containing the wide receiver duo of Tyreek Hill and Jaylen Waddle. Hill leads the NFL in receiving yards with 477 while Waddle leads all players who have 15+ receptions with 18.1 yards per reception. Jets CB Sauce Gardner did say that the matchup "is a huge opportunity for the secondary to show why we belong and why we want to be the best in the NFL." Through four weeks, D.J. Reed has allowed 0 touchdowns, 0 catches of 20+ yards, and only one catch of 15+ yards. So, it will all be a matter of which pair gets the edge: the Jets' CBs of Gardner and Reed or the Dolphins' WRs Hill and Waddle.
JP: The Jets matchup up well with the Dolphins because Miami's offensive strengths line up perfectly with the Green & White's defensive strengths. This week, OC Mike LaFleur highlighted Miami's offense as "maybe the fastest I've ever seen." Miami's offense is led by the WRs Tyreek Hill and Jaylen Waddle, but the Jets boast an equally impressive CB duo of D.J. Reed and Sauce Gardner. Miami has struggled to run the ball and is ranked 29th in yards per game, and the Jets have the 13th-best run defense. And most notably, Miami will be without QB Tua Tagovailoa. After Teddy Bridgewater came on in relief last Thursday, Miami scored 9 points over the remaining two-and-a-half quarters. Without Tagovailoa, a limited rush attack and opposing New York's promising CB pair, Miami's fastest show on turf will be limited. On the contrary, QB Zach Wilson is making his second start and got stronger in the fourth quarter against Pittsburgh last week, throwing for 128 yards and 2 TDs. Miami's defense is ranked No. 31 in the league.