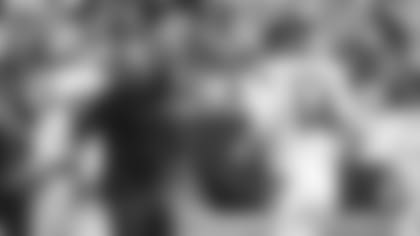 While the Jets finally got the monkey off their back with a 24-22 nail-biting win over the Cowboys, Adam Gase is ready to file the game away and move on.
"We just have to keep tightening up the screws," Gase said. "We have to do a better job of taking practice to the game field. We did take a step in that direction, what we saw in practice, we did see on the game field for the most part.
"It doesn't matter if we've been averaging 40 points a game. Every week after you watch a game, you feel one way when you leave and a different way when you watch the film. That's in both wins and losses. There's a lot of things that we need to correct, that we need to do better, there are things we need to get on the same page on to where it can hurt you down the road."
The Jets know they have yet another tall task coming to MetLife Stadium in the defending Super Bowl champion New England Patriots. These teams met in Week 3 as the Patriots won 30-14, albeit Sam Darnold was not in the starting lineup. Similar to Gase, the 22-year-old signal-caller is ready to turn the page as he nitpicks the offensive performance.
"I think, for us, we have to continue to work out the details," he said. "Obviously we got the win, which was awesome. Our defense played great, we (the offense) played good at times, but there are a lot of things we can clean up. I think we left a lot of points on the field. We just have to clean up the details and get back to work."
Even though both Gase and Darnold are ready to move on, Darnold's presence made a difference for the team Sunday in his first game back from mono. In the three games he missed, the offense averaged 165 yards per game compared to the season-high 382 yards the unit posted against the Cowboys. The 2018 No. 3 overall pick also completed 23-of-32 for 338 yards, three yards shy from tying his career-high, in addition to two touchdowns and one interception.
"I think [Sunday] was good for all of our guys to see what they've been working for in the spring, training camp, the preseason games," Gase said. "Then we had Week 1 and kind of had a little bit of a shuffle there to where we couldn't do a lot of the things that we had been practicing. To get back to some of that, I think it was good for the guys to go through and be like, 'Okay. Here's where we're at right now. We have to get better fast. We're not going to have a lot of room for error.' We have a tough opponent coming up this week, so we have to do a good job of finding a way to get better this week."
One week after Darnold and OLB Jordan Jenkins returned to the starting lineup, more help could be on the way for the Jets in Week 7. Gase said C.J. Mosley, who's missed the last four games with a groin injury, is aiming to practice this week along with Henry Anderson (shoulder) and Nate Hairston (knee). Chris Herndon, whose return from a four-game suspension has been slowed by a hamstring injury, is progressing well.
"We're going to be smart with him," Gase said. "We're going to try to get him on the practice field this week and see how it goes. Signs are pointing hopefully to a return sooner rather than later"
In other injury news, LT Kelvin Beachum, who sprained his ankle Sunday, is week-to-week. Both DL Steve McLendon (hamstring strain) and LB Neville Hewitt (stinger) are day-to-day.