Pittsburgh is a big homecoming game for a number of Jets. Darrelle Revis grew up in nearby Aliquippa. Brandon Marshall was born there.
Two other contributors, both on the defensive side with lockers in the southeast quadrant of the Jets' locker room, also have homecoming stories to tell. DT Steve McLendon spent his first six pro seasons in black and gold. S Rontez Miles also grew up near the Steel City. Their stories, while different, touch similar themes.
Emotional Week for McLendonMcLendon admitted this week he's particularly pumped to return to the stadium he called home since coming to the Steelers as an undrafted free agent in 2010, then leaving as an unrestricted free agent this past March.
"There's going to be a lot of emotion," he said. "They're going to play with emotion, we're going to play with emotion — I'm going to play with emotion."
Can McLendon keep those emotions in check?
"I cant. I'm sorry, I just can't," he said with a smile. "I love this game, I love the guys I'm playing with. It's going to be hard. I'm not going to start no fight or anything, but I'm going to give it all I have for this team and I think everybody in this locker room will do the same."
McLendon grew steadily in the Steelers system, from a backup his first three seasons to a starter his last three. He's continued that growth as a Jet, notching two sacks — already tying his career high back in '12 — and 2.5 tackles for loss in the first four games.
He clearly valued his time in western Pennsylvania, but he also loves setting up his new shop in North Jersey.
"I give them props for bringing me in and letting me play there. I had a great career there. But I have moved on," he said. "I'm a New York Jet now and I'm excited to take the field against the guys."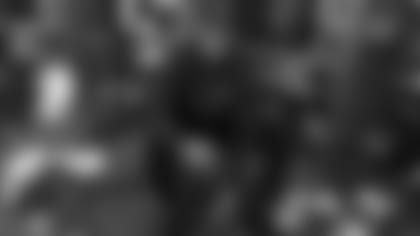 Miles and His Fans in the StandsWhile McLendon grew up in Alabama, Miles is returning to near his old neighborhood of Braddock, PA, southeast of the city down the Monongahela. He played at Heinz Field in a WPIAL district title game for Woodland Hills High and has younger brothers who've also played there.
And many of his friends and family will be back in the stadium Sunday to cheer him on as a safety and key special teams contributor for the Green & White.
"I'm running about 100 tickets now," he said, going through the mental inventory. "I'm one of 10 siblings, so all my siblings, my kids, my aunts and uncles, all my cousins, a handful of childhood friends, grandparents, my mother ... it's my aunt's birthday so she's going to go."
And many of those smaller fans will be wearing a familiar jersey. As Miles and I spoke at his locker, he had a miniature sporting good store spread out in front of him — about 20 miniature No. 45 green jerseys on the floor.
"These are for all my nieces and nephews," he said. "It's for my family. I'm taking it head-on, embracing it. I'm excited to see my family. A lot of them haven't been able to see me play a professional game."
The Key for the JetsWhile Miles and McLendon have similar reasons for being pumped up, their top reason is the same, and it's not about family in the stands or former teammates to chat up before and after the game.
It's about the game itself and what it means to the Jets.
"The game's still important," Miles said. "It's going to be a tough one, but we'll get it done. It's a must-win and this is a good team. It's got to be a fundamentally sound football game from our end."
"One thing I tell the guys," said McLendon, "I think it's about that time to get a win. It would help us if we get a win against a team like the Pittsburgh Steelers."