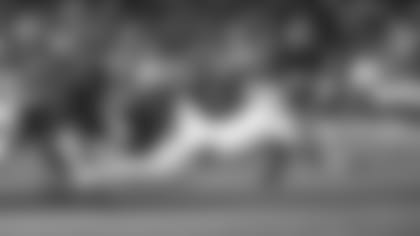 It wasn't the prettiest 60 minutes of offensive football, but it was pretty sweet, all things considered, especially as considered by Zach Wilson.
"It's good to be back," Wilson said after he and the Jets, offense and defense, came together for their third win of the season and their first road win under head coach Robert Saleh by 21-14 over the Texans. "Rusty, for sure, frustrating, emotions were going up and down. But I thought the guys battled, we hit the reset button every single play. And I was proud of the way the guys kept going."
Wilson, who sat or stood and watched the previous four games with his injured knee, had something of a familiar game in that he and the Jets scuffled when they came out of the NRG Stadium locker room to kick things off. For their first four drives in the first half, they managed a field goal, Wilson's untimely interception flip off Ty Johnson's back and two three-and-outs, all to the tune of 22 total yards. Wilson started 1-of-6 passing for 11 yards. Oof.
But from 6:30 to go in the first half through the final gun, Wilson got in his comfy chair as he has done in several late first halves and full second halves. From his shaky start he finished 13-of-18 passing for 134 yards, his first pro rushing touchdown, two TD drives total plus two field goal drives (one FG made, one missed by Matt Ammendola).
"He throws those little rockets," Saleh said about Wilson's early and sometimes high and hard misfires. "It's being a rookie. We said the objective in this game was to try to get him as comfortable as possible early. I thought we were able to do that on the [first] touchdown drive we had. There's growing pains, being able to recognize things, trust your week of preparation. As he gets older and gets a lot more reps, he'll get better at it."
"For sure, I've got to be able to move on from the beginning of the game," Wilson said, adding that once he got going, getting that first win away from MetLife was special. "It means a lot. Winning in the NFL is tough always. You've got to learn from it. We've just got to keep going and keep getting better."
Wilson's comfortability factor combined with things he saw — and didn't see — during the week of practices were keys for several big third-quarter pass plays.
After finding rookie WR Elijah Moore for just one shovel completion for 11 yards in the first half, Wilson hit Moore for 22 and 16 yards on back-to-back completions to start the third-quarter drive to the TD that put the Jets ahead for good, 18-14.
Then on the next series, still in the third, Wilson and Braxton Berrios connected on the visitors' longest play of the day, 46 yards. That led to Ammendola's miss from 42 yards but still gave Wilson and the Jets confidence in what they were deciphering from the Texans' D.
On the "cool" Berrios completion, Wilson said, "We called a play that had just a lot of options. Guys didn't show any Cover Zero on tape but they showed it twice today. Brax did a great job on his route, turned inside and did the rest by himself."
"The first one, the 22-yarder, was really good off a play-action pass," Saleh said. "The second one came, I believe, off of zero pressure, the one to Berrios. Zach was seeing the field really good in the second half. That's something to build off of."
That's what it's all about for Wilson, who was no doubt crusty with rust, didn't have No. 1 RB Michael Carter (IR), which was expected, and No. 1 wideout Corey Davis (groin), which maybe wasn't. He has to keep laying bricks, stacking wood, or using whatever other favorite building materials he can find to keep raising that foundation for the rest of this season and the future.
As Austin Walter, the practice-squad running back who played a nice supporting role in the victory, put it:
"Zach, he's the leader, we follow him. We just trust in each other. And down the stretch, that's what really got us this win."