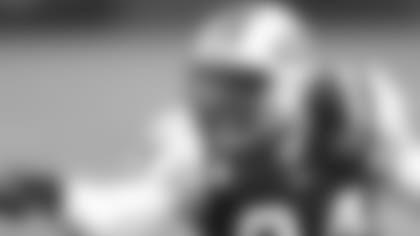 Last year, the Jets' lucky numbers were 4, 10, 26 and 36. With those selections in the 2022 NFL Draft, general manager Joe Douglas and his draft team selected Sauce Gardner, Garrett Wilson, Jermaine Johnson and Breece Hall. And luck had only a little bit to do with their winning Pick-4.
In three short weeks, this year's lucky number will be 13.
Douglas and the Jets are sitting at that spot vilified by triskaidekaphobics (those who fear the number 13, of course). And there will be some outstanding contenders and not a few pretenders who could be selected there. Will the Jets find the correct player?
That won't be known for a little while, but they have been successful at No. 13 several times since the start of the AFL/NFL common draft in 1967.
In 1973, that's where they selected S Burgess Owens, from the University of Miami. Owens went on to start 97 Jets games, missing only three, from 1973-79, and in that span he snared 21 interceptions, tied for ninth most in franchise history and tied for fifth-most among Jets safeties.
The 2000 draft was famous for "the Four Aces." John Abraham was the second of those four first-rounders, plucked out of South Carolina one pick after Shaun Ellis was taken at No. 12. Abraham, like Mark Gastineau before him, was the most feared Jets pass rusher of his era, with his 53.5 official sacks third-most in franchise history behind Gastineau and Ellis and his 19 forced fumbles the most among Green & White D-linemen. He was a three-time Pro Bowler and was named All-Pro first team once in his six seasons.
In 2013, the Jets' 13th pick was Sheldon Richardson out of Missouri. Richardson began his career with a bang, being named NFL Defensive Rookie of the Year in '13 and a Pro Bowl selection and Curtis Martin Team MVP in '14. He had eight sacks in '14, 18 sacks in four Jets seasons, and in 2016, his unofficiail totals of 20 tackles for loss/no gain and 13 TFLs are the most by a Jets defender in the last quarter century. Off-field issues helped send Richardson on his way to five stops with four different teams in the next five seasons.
The Jets also used the 13th pick as capital to elevate their position in three other drafts — to No. 2 in 1980 to take WR Lam Jones, to No. 12 in 1994 to grab CB Aaron Glenn, and to No. 4 in 2003 for DT Dewayne Robertson. Glenn was the top swap here, playing eight seasons in the Jets secondary and notching 24 interceptions, tied for fourth-most in franchise history, and three INT-return TDs.
If we expand the pool of lucky 13s to the NFL, not every one of them worked out, but four 13th selections went on to great careers and induction into the Pro Football Hall of Fame — Steelers RB Franco Harris, Chiefs and Falcons TE Tony Gonzalez, Chargers TE Kellen Winslow Sr., and Cowboys DE-turned-DT Bob Lilly.
We're not presupposing which player or position that Douglas, head coach Robert Saleh and the Jets are targeting in Round 1 on April 27. But it has been noted that the Jets could use a powerful DT to pair with Quinnen Williams on the interior of their DL. Is there a DT in this draft who comes close to the best run-stopping and pass-rushing talents of seven-time All-Pro first-teamer Lilly and the early Richardson? That would be a lucky, skillful and timely 13th overall selection indeed.