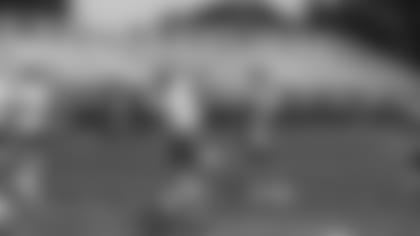 Today was not a swaggering return to work for Sam Darnold and the Jets offense. Darnold tried to throw one pass at WR Robby Anderson's feet but instead found the hands of diving interceptor Trumaine Johnson. Then the first defense stoned the offense on four plays, three incompletions, during goal line drills.
"This was definitely, I think our whole offense would agree, not our best day," Darnold said after practice.
But don't let one rough outing eclipse what has been a superb first week and a half of training camp for the second-year signal-caller. Darnold has been sharp in general, and in particular he agreed that he's got more zip and a tighter spiral on his fastballs than he did a year ago when he reported to his first pro camp.
Mechanically, Darnold said that has come from a special emphasis in his lifting regimen.
"I've been working on my hip strength and hip flexibility throughout this offseason and training camp," he said. "As long as I just continue to work on that and grind through getting my hips stronger and more flexible and also stable, my arm will continue to get stronger."
But there's also a major mental component to his stronger arm.
"I think it just comes with the confidence of going out there and knowing I can do this," Darnold said. "It's not that I didn't know that last year. It's just that with this offense, I feel like I already know most of it so I'm just going out and spinning it, whereas last year I was still not super comfortable with all the guys, getting in the huddle, feeling timid — I wasn't really myself.
"So I think this year, now that I'm more stepping into that leadership role, I guess you could say, I'm definitely a lot more comfortable and confident in myself."
Head coach Adam Gase adds one more possible factor for his QB's more whip-like throws.
"I do remember him saying that last season, it was like arm fatigue in the spring and then in training camp and as the season went on," Gase said. "It's just a different deal when you're going through the combine stuff. You throw so much, you're not really sure if it's too much, not enough. He went [college] season, combine, get ready for that. ... He probably just overthrew a little bit last year and it wore on him.
"It looks like he does have more velocity this year," the coach said. "It's impressive, some of those throws he makes when, like, he can't step into it, the pockets collapsing and he can throw it 40 yards down the field. You don't see a lot of guys being able to do that."
Long story short, we expect Darnold to respond to today's practice as he has to other temporary setbacks as the Jets' starter. With a vengeance.
"We'll watch the tape, get better," he said, "and hopefully we'll have — I know we'll have — a better day tomorrow."
All of which will lead up to Thursday night and the Jets' first preseason game, "on the road" against the Giants.
"I'm pumped to get out there at MetLife," he said, "see the fans, first of all, and go out there and play the game I love."
See the Top Photos from Monday at Jets Camp