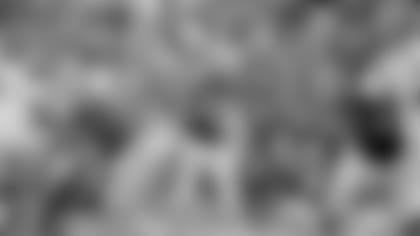 Four years ago, Joe Namath was promoting his autobiography, All the Way: My Life in Four Quarters, and he touched on his life, his "lucky" nature and his mortality with a reporter. It was mentioned that the interview he was doing came shortly before he celebrated his 76th birthday.
"Yeah, that's right, man — and I hope I get there," Namath said. "I'm getting older ... it beats the alternative."
Namath got there and then to a few more since and he's still going strong. Today he passes an amazing mile marker in his life, made even larger by the presence and the impact he's had in the lives of not only his family but the Jets, their organization, his fans, the NFL, and on and on.
Happy 80th Birthday, Joe!
Can that be right? Broadway Joe an octogenarian? Believe it. As Namath told newyorkjets.com today:
"I'm very blessed to reach 80. I'm Wayne Chrebet-years old today." Chrebet, of course, wore No. 80 during his time in green and white from 1995-2005.
But No. 12 is the man of the hour. One of the NFL's iconic quarterbacks and personalities over the years has reached another milestone, providing everyone in his orbit with the opportunity to reminisce again: about his days in Beaver Falls, PA, his career at Alabama, and his storied tenure with the Jets, which reached the pinnacle of the football world when he led the Green & White to victory in Super Bowl III in early 1969.
Namath in 2019 had some as always pertinent and pithy things to say about his long life and his achievements when he talked about his book.
One of the whimsical topics he visited, as a Gemini about to celebrate a birthday, was his belief in astrology.
"I started paying attention to it more often than not," he said of his birth sign. "I believe it. I question myself. I say, wow where did that thought come from? Yeah, I know I look at things a couple of different ways and I've become somewhat of a believer in that, astrological signs, characteristics of people.
"One of my teammates, one of the times I may have stepped out of line with some team rules or something, I told him, 'Dang, I don't know why I did that. I don't know how that happened.' And he said, 'Joe, you've got to stop using that Gemini s* as an excuse.' And I said, 'But it's real. I don't know how this happened.' But I'm also keen on being a Gemini and I feel good about that.:
"It's hard for me to fathom a cat playing 18 seasons already and looking like he does, feeling like he does," said Namath. "Having watched him perform on the field in ways that I haven't seen other guys have, the same kinds of movements and success, abilities that he has both physically and mentally, he's going to lift the team."
Shades of I Can't Wait Until Tomorrow ... 'Cause I Get Better Looking Every Day, his first book, with Dick Schaap, published in 1970. It's still true of Joe today, even though he's twice as old as the 39-year-old Rodgers.
Then rewind to the 2019 interview to hear Joe turn philosophical and spiritual.
"It's the early fourth quarter now. There's a lot of things that transpired since we did win the championship," Namath said. "I really believe we're lucky, I'm lucky, anybody that's around at this stage, because when we look around at what's happening to people that we don't know, we do know, it tests your religion sometimes to see the tragedies that occur. You've got to be strong spiritually, really, with what god you believe in, because, why, man, why do these people go through that, why did this have to happen?
"So things could always be worse. And anytime I get to feeling a little bit down because something's not just quite right, man, hey, you've just got to get your head up and try to make this work."
Joe, you made it work and continue to make it work today as you turn 80 years young. May things be quite right for you for many years to come. One more time, Joe, happy birthday, thanks for the memories and all the best.