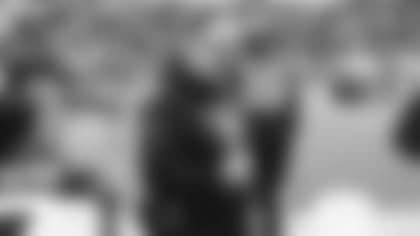 So what will Gregg Williams do for an encore this (short) week?
The Jets' defensive coordinator, his staff and of course the Jets players did it again Sunday in their 22-21 triumph over Miami, coming up with a game plan that kept the Dolphins out of the end zone with a lineup that was missing some key parts due to injuries going in and lost a few more during, yet found another winning formula.
"It's time for the next man up and it's time for the next game up," Williams said at his news conference today.
Why today for the G-Dub presser? Because next game up is Thursday night at Baltimore. And QB Lamar Jackson and the Ravens are acting as if opponents will win nevermore after they went up to Buffalo and toppled the Bills, 24-17, for their ninth straight win to improve to 11-2.
"What I see from a preparation process is that Lamar has taken a lot of different fundamental techniques that he needed to improve on and worked very hard in the offseason," Williams said. "He's throwing the ball better, and that's a different skillset at this level. When we say receivers have to be thrown open by a quarterback because you're never really wide open unless you're getting into zone holes or zone defenses, he's done a very good job with that."
But the thing that dazzles Ravens and NFL fans is Jackson's running ability. He has three games to rush for 23 yards and break the NFL mark for rushing yards by a quarterback, set by Michael Vick with the Falcons at 1,039 yards in 2006. Williams explained the problems that presents for any defense.
"We can be schematically very sound, but athletically, can you match up in the space with Lamar?" the coordinator said. "And you see him cause people to miss so many times when they've got hat for hat, they've got person for person — sometimes two people out there. And he still can make you miss.
"We've got to do a good job with our swarm, we've got to do a good job with how we schematically handle things," Williams said, adding of Baltimore offensive coordinator Greg Roman: "Greg's done a very good job, and they've taken the next step and moved up."
How can the banged-up Jets, who may or may not get back S Jamal Adams (ankle), CB Brian Poole (concussion), CB Arthur Maulet (calf) and rookie DL Quinnen Williams (neck), possibly compete against such a juggernaut in a four-day turnaround? Oh, Williams isn't guaranteeing anything but he's sure his band of next-men-up will compete, just as they've competed all season to improve the Jets' rankings to seventh in the NFL in total yards allowed (sixth in yards allowed/play) and second in run defense (still first in yards allowed/carry).
"I thought the players came back in yesterday outstanding," Williams said. "We've got some bumps and bruises, but their attention and focus were outstanding in the meetings and getting on to the process of another opponent. And real pros do that," Williams said. "They did very well yesterday and I'm anticipating another good day today and another real strong day tomorrow morning, and then we're on the train and on to Baltimore."
He also cited his and his staff's experience in developing "36 or 38 different philosophical things" on how to coach his units during a walkthrough-heavy short week such as this and in already beginning work on Jackson and the Ravens last week so that everyone "hit the ground running" when the team returned to the Atlantic Health Training Center on Sunday night after the Dolphins win.
Then there's a trait all the Jets' coaches and players share that gets them through taxing times like these.
"We love to compete," Williams said. "I think what drives us this long, and I know for me, is the thrill of competition. I tease everybody all the time that I'm a 'competition-a-holic.' And all these top guys are that way. You miss the time inside the white lines of coaching and practicing and playing and you can't wait to the next time you're inside the white lines, against anybody. That's what we do and we love it.
"And this group of young men are really good at that. I've been particularly pretty harsh on how they're going to go about changing behaviors and that kind of stuff. Pfffttt! They love it . They can't wait to get out there every day."
And for these next-Jets-up, that means today, Wednesday and then Thursday night at M&T Bank Stadium against the Ravens.