In some ways, Mike Catapano is approaching Saturday's 48th annual Jets-Giants preseason game just like a lot of fans of the green and the blue.
"I grew up in New York, so I know it's a special game," said Catapano, a native of Bayville, NY, not far from the Jets' old Hofstra headquarters, who starred at Princeton. "But for us, it's just another opportunity to get better."
Yet playing the Giants means more to him than Weeb Ewbank's braggin' rights. It was last Dec. 6, against the other team that shares MetLife Stadium with the Jets, when Catapano suffered a serious foot injury.
"For me, it's a little emotional. That was the last game I played in before I got hurt," he told me after the last practice of training camp earlier this week. "It was a long recovery. It took a long time to get my feet back under me."
Catapano came to the Jets from the Chiefs via waivers early last season with the scouting report of having a great motor and some pass-rush skills. He'd been on the practice squad until playing a few plays at Houston, then a lot of plays against Miami. Came the Giants and he notched his first sack as well as his first special-teams tackle as a Jet ... and landed on injured reserve.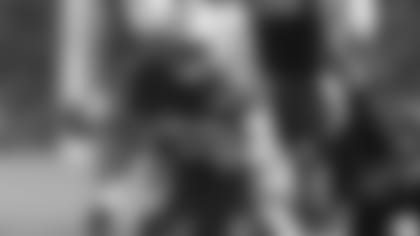 Besides the rehab, we can add to Catapano's story his transition from defensive end to outside linebacker, which he began by studying the playbook this spring while teammates were practicing during OTAs and minicamp. He cut his weight from almost 290 to under 270 and has returned full-time to playing defense out of a two-point stance.
"I think this is a more natural fit for me," he said. "I think this defense is perfect for what I do. I'm just trying to get better and more comfortable in it every day, and Coach [Mark] Collins has really helped me with that."
Consider that third-round rookie Jordan Jenkins has been playing with the first defense on the strong outside but on Monday Jenkins injured his calf. Catapano had been taking some first-team reps even before the injury. If Jenkins is limited or out Saturday, it'll be next man up and Catapano could get an extended look to state his case for a starting spot and at the very least more OLB reps.
No matter the opponent or the opportunity, Catapano is an intense, take-no-prisoners kind of guy.
"I go into every game the same way, like it's the last game I'll ever play, like it's war, like it's all or nothing," he said. "That's just how I play. So you'll see me going a million miles an hour no matter who we playing."
And to think the next game is against the Giants. As Catapano said, this one is special.