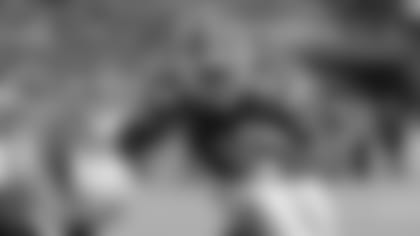 It's a natural instinct for fans of a team like the Jets to wonder what the role might be for a running back like fourth-round rookie La'Mical Perrine coming into a backfield manned by accomplished veterans like Le'Veon Bell and Frank Gore.
Orlando Sentinel reporter Edgar Thompson says that's just the kind of situation in which Perine thrived in his four seasons at the University of Florida.
"It's a great situation for a young running back, and La'Mical is a very determined competitor," Thompson, the Sentinel's Gators beat reporter, told newyorkjets.com's Olivia Landis. "But he's also a really good teammate, which is important, especially at a position like that where a lot of guys, they want the ball in their hands.
"But look at the experience he's going to be working with there," Thompson said, citing Bell's and Gore's résumé highlights. "La'Mical's going to have great mentorship there. And at Florida, he's been in those running-back-by-committee situations. This past year was really his first year where he was the guy. He's shared the ball a lot, had to bide his time, chip in where he could.
"That sounds like it's going to be his role with the Jets for a while, so he has the right mentality for it and will figure out a role for himself, I'm confident, because that's kind of what he did here."
A quick review of Perine's Gators numbers shows that despite not starting full-time until '19, he added to a sturdy platform each year, leading UF in rushing yardage his last three years, scoring 28 touchdowns in those three seasons — including five receiving TDs last year — while twice finishing over 13 yards/reception and twice over 5 yards/carry (*led Florida in rushing yardage):
Table inside Article

| Year | GP/GS | Rushing | Receiving |
| --- | --- | --- | --- |
| 2016 | 13/0 | 91-421-4.6-1 | 9-161-17.9-1 |
| 2017 | 11/8 | 136-562*-4.1-8 | 10-81-8.1-1 |
| 2018 | 13/1 | 134-826*-6.2-7 | 13-170-13.1-1 |
| 2019 | 13/13 | 132-676*-5.1-6 | 40-262-6.6-5 |
| Totals | 50/22 | 493-2485-5.0-22 | 72-674-9.4-8 |
Thompson's scouting report hints at what the Jets are getting in Perine and why he should fit in well alongside Bell and Gore.
"He has great hands, he's a very good receiver. He worked with the receivers during the offseason, honing his route-running skills. so he's a threat out of the backfield," the Sentinel reporter said.
"And he's a solid between-the-tackles runner. He doesn't have huge, game-breaking speed. I think he ran a 4.62 at the Combine, which is solid for a running back, I guess, you'd want a little bit faster. But he has good football speed, he has enough quickness, he's got great vision, and he's very shifty."
Add it all up, said Thompson, and La'Mical Perine "just has instincts and vision and a real knack for playing the game. And there's something to that, knowing how to play football and finding your role and making the most of your chances."