Tiffany received her dancing genes from her dad, Juan. Her older brother, Simon, informed her about the Flight Crew tryouts and encouraged her to keep pushing for it after she didn't make the squad in her first year auditioning.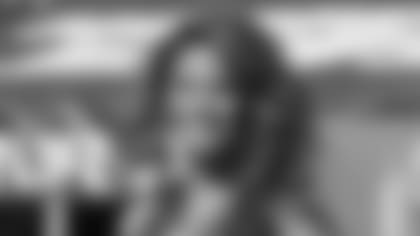 A short time later, Juan and Simon tragically died in an accident.
With a heavy heart, Tiffany used an unimaginable nightmare as inspiration and dedicated herself to making the Flight Crew team.
"If I really want something," she said, "I'm going to work really hard to get it. I wanted to make the team for my brother and I was going to work my hardest to make the team."
Now in her third season with the Flight Crew, this week's Gameday Girl has come a long way, maturing from a worried rookie to a stress-free veteran.
"It used to be 'OK, got it over with.' But now it's 'Oh my God, I can't wait to perform this number,' " she said. "I struggled the first year because I wasn't used to the environment and I was worried about messing up. This year, I'm finally taking everything in and enjoying myself, and I feel like all of my hard work from my rookie season has paid off."
Her favorite part of being a New York Jets cheerleader is "every year you gain a new sister and a new best friend."
"I can talk to my boyfriend, my mom or my girlfriends about anything, but they can't truly understand what it's like to perform in front of 80,000 people," she said. "The other cheerleaders can relate to what it's like to live that amazing life."
Tiffany knows that her Flight Crew career will only last so long, but before she moves on from dancing and starts a family, she has one thing left she'd like to do: dance for a music artist on tour.
"I went to a Justin Timberlake concert, and my friends told me that my face was priceless," she said. "I was looking at those dancers doing what they love to do, and I decided that I want that to be me one day, working with someone so talented."
It might be a longshot, but just like her commitment to making the Flight Crew, there's no stopping Tiffany when she knows what she wants.
"Never be lazy, complacent, or take your opportunities for granted," she said. "Do everything in your power to fulfil your goals and live your dream."