Growing up in a household that bleeds green and white, Tara's love of the Jets goes as far back as she can remember. This week's Gameday Girl can, however, recall the precise moment that she knew she wanted to become a Flight Crew Cheerleader.
It was 2007 and her high school cheerleading squad was volunteering at Marty Lyons' annual holiday party, handing out presents and performing as well. Before her team took the stage, the Flight Crew went on first.
"I could see that they were beautiful and talented and great performers," Tara said, "but what really stuck with me was the way they interacted with the children there. I realized then that being a Flight Crew Cheerleader was more than just energizing the crowd and dancing on the sideline."
After that night, Tara knew precisely how she could combine her fondness of the Jets with her passion for helping others.
There are perks of being a Jets cheerleader. For example, Tara had always wanted to attend an NFL game, and when that moment finally came about, it was with a view from the sideline.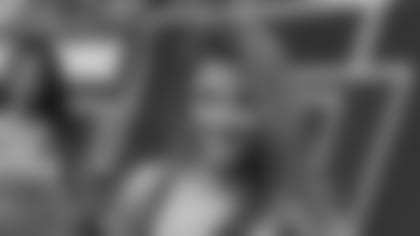 "A few hours before kickoff on Opening Day, Denise [Flight Crew director Denise Garvey] brought us onto the field and had us all lie down and close our eyes," Tara said. "She gave an amazing speech about experiencing a game, and for that to be my first ever time in an NFL stadium was incredible."
But nothing from her cheerleading job compares with the platform the job has given her to make an impact on the lives of others.
"Now that I'm a current member of the Jets Flight Crew," the rookie from Smithtown, NY, said, "I want to be a positive influence and hold myself to high standards to be a good role model through my words, but also through my actions."
Tara's currently studying to become an English teacher, a career that she's drawn to for the same reasons she was to the Flight Crew six years ago: to help people.
"It's so incredible molding these students," she said. "To have a positive influence at an age where a child is still developing could make a huge difference in somebody's life. My goal, if I could do one thing with my life, would be to have somebody look back and say, 'Tara made a difference in my life.' "
Coincidentally, but very fitting for both the timing of her Gameday Girl honors and for her benevolent personality, Tara was born on Thanksgiving Day. That's not why it's her favorite holiday, though.
"I love it because it's mostly about appreciating all of the people around you, everything that you have, and all the blessings that you've been given," she said. "This year I'm especially thankful because as a rookie cheerleader for the Flight Crew, my dream has come true."