From the moment Sarah began her freshman year at college in Maryland, she wanted to fast-forward four years to graduation.
"I couldn't wait to move back to New York to try out for the Jets Flight Crew," this week's Gameday Girl said. "It was just getting started, but I could tell that it was going to be something big that I wanted to be a part of."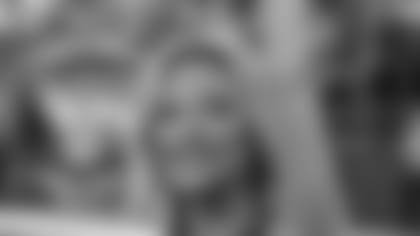 Having danced since she was 2, Sarah had always dreamed of becoming an NFL cheerleader. She grew up a Jets fan, thanks to her older brother Andy's passion for the Green & White, so when the Flight Crew came into existence in 2007, her dream job was created.
Sunday against Cleveland will be her 16th regular-season game at MetLife Stadium as she finishes her second season, and those nervous butterflies before she takes to the turf are still as prevalent as ever. And she loves the adrenaline rush.
"I remember standing in the tunnel before my first game last season and being so nervous but so excited," she said. "That crazy cool feeling I get when I'm in the stadium in front of tens of thousands of roaring fans, I'll never be able to describe it but it will never go away."
That feeling's not limited to performances of 70,000-plus people, though. Sarah was fortunate enough to be selected for the Flight Crew's Show Team this season, and while those dances are typically in front of smaller audiences, they're equally exhilarating.
Her first Show Team performance was Aug. 28 for the Jets' annual Kickoff Luncheon at Cipriani Wall Street's banquet hall in New York City.
"A lot of the girls had performed that dance all last year," she recalled, "so I just didn't want to mess it up. Once it was over, we thought it went well but we weren't sure."
Quite a few compliments afterward from chairman & CEO Woody Johnson and head coach Rex Ryan — along with a "That was amazing!" from Flight Crew director Denise Garvey — confirmed the cheerleaders' initial reaction.
It's been an amazing year for Sarah and the rest of the Flight Crew, but all good things must come to an end, and for the cheerleaders that final chapter is Sunday when the Jets play at home for the last time this season.
Sarah's thrilled to be the Gameday Girl for this week specifically because her brother will be flying in from California to see her cheer at the game for the first time.
"Also, the fact that it's our last game, it's special but very bittersweet," she added. "We've worked so hard all season, become so close, and this will be the last time that these 33 girls are sharing a field together. This game in particular is something we'll all hold so close to our hearts and remember forever. It'll be emotional but happy, celebrating a great year.
"For some of us, this is just the beginning, some will be moving on, but the memories and friendships will exist forever."