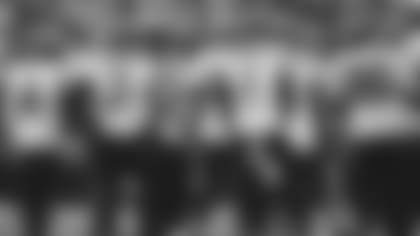 The Jets' defense made major strides from Robert Saleh's first season as head coach in 2021 through this past season. Saleh, asked about how free agency might impact his D, said during Combine week: "We're just making sure we can run it back with the guys we have."
But Saleh and general manager Joe Douglas are well aware that there's no standing pat in the Not For Long. There is always work to be done, even on a defense that rose from 32nd in the NFL in total yards, points and first downs allowed and 30th in passing yards yielded to fourth, fourth, third and third in those categories respectively.
Here are summaries of the Jets' subunits followed by thumbnails of 10 of the defensive players who may become available as unrestricted free agents when the new league year starts Wednesday, March 15, at 4 p.m. ET.
Douglas said the Jets "feel good about where we're at" in talks with Quinnen Williams and his agent on a new deal. But while "Q", Carl Lawson and John Franklin-Myers led the Green & White's reinvigorated pass rush, the run defense finished off (29th in rush yards/game, 24th in yards/carry over last three games), while the entire unit had two takeaways and one interception over the last eight games. DTs Sheldon Rankins and Solomon Thomas can become free agents.
DT Javon Hargrave (Eagles) — This do-it-all Keystone Stater (first four seasons with Pittsburgh, past three with Philadelphia) who turned 30 last month looks to be the star of the D-line UFAs. He had 123 tackles, 18.5 sacks, 19 TFLs, 34 QB hits, one Pro Bowl berth and one Super Bowl appearance in his last two Eagles seasons combined.
DL Zach Allen (Cardinals) — The 3-4 D-end had career highs of 5.5 sacks, 10 TFLs and 20 QB hits in his fourth season, all with Arizona. And he knows his way around behind-the-line pass breakups — his eight PDs were the most among all D-linemen last year and he was the only player in '22 with five-plus sacks and eight-plus PDs.
Edge Marcus Davenport (Saints) — It's a off year for edge UFAs, with Davenport just ahead of bigger names Jadeveon Clowney and Yannick Ngakoue on some analysts' lists. And Davenport, the 14th overall pick of 2018 by New Orleans, picked a bad year to come out, with a career low in sacks (0.5) one year after posting his career high (9.0). He's a powerful dude but injuries have kept him under 500 defensive snaps the past three seasons.
LINEBACKER
C.J. Mosley is ageing like a fine, hard-hitting wine in the middle of the Jets defense with his second season of 158-plus tackles at an average of 9.9 stops/game. Quincy Williams enjoyed his second straight year of leading the unit in tackles behind the line, while Kwon Alexander applied his impactful tackling style and knowledge of the scheme from his 1.5 seasons on Saleh's 49ers defense. Both Williams and Alexander can sign elsewhere beginning next week.
Bobby Wagner (Rams) — Wagner, who turns 33 in June, had his eight-season postseason awards streak as a Seahawk snapped in his first year in L.A., but not by much — he was named All-Pro second team after his carer-high six sacks and his seventh straight seventh straight season of 130-plus tackles. Some team will want to fit him into their scheme.
Lavonte David (Buccaneers) — David, despite already turning 33 this year, is the top 'backer in free agency according to Pro Football Focus. His 11-year Tampa Bay totals say a lot about the player some team will be signing: 1,346 tackles, 29 sacks, 143 tackles for loss, 12 interceptions and 59 passes defensed.
Tremaine Edmunds (Bills) and David Long (Titans) — For a younger 'backer model, teams can kick the tires on Edmunds, 25, and Long, 26. Edmunds has been a tackling machine with pass-coverage skills in his five Buffalo seasons, although in the '22 playoffs he was up (in the win over Miami) and down (in the loss to Cincinnati). Long is a strong penetrator and run-stop tackler, but don't look for a lot in the pass rush — he had zero sacks in four Tennessee seasons.
SECONDARY
Never say never, but the Jets appear set in the back end with Defensive Rookie of the Year, Pro Bowler and All-Pro first-teamer Sauce Gardner and PB alternate D.J. Reed on the corners, Michael Carter II in the slot, and Jordan Whitehead at one safety with a current question mark at the other safety. Lamarcus Joyner can become a UFA and the Jets just reportedly agreed to a trade for veteran Chuck Clark from the Ravens. Sauce, of course, led the NFL in PDs but the entire unit needs to secure more interceptions.
S C.J. Gardner-Johnson (Eagles) — Gardner, who spent one season with Philadelphia after three with New Orleans, isn't huge (5-11, 210) and injuries have cost him 10 games the past two seasons. But in his 12 Eagles RS games he tied for the NFL lead with six picks and posted career highs of 67 total tackles and 61 solos.
CB James Bradberry (Eagles) — We know Bradberry's a stand-up guy since he didn't alibi that controversial late defensive-holding call that cost the Birds a shot at an overtime Super Bowl win. But he's also really good at getting hands on the leather. His 99 PDs are the most by any NFL defender in the past seven seasons, and his 18 INTs aren't bad either. He turns 30 in August.
CB Cameron Sutton (Steelers) — Through six seasons with Pittsburgh, the 28-year-old Sutton has built a nice career that could pay off for him in free agency. He established himself as a Pitt starter the past two years, posted career highs in '22 with three INTs and 15 PDs. His 50.7% completion rate last season (players with 70-plus targets) was third-best in the league, behind Sauce and Bradberry. Other DBs who will find willing suitors: S Jessie Bates (Bengals) and CB Jamel Dean (Buccaneers).