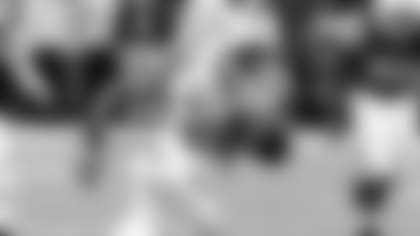 Thomas Jones had gone to the Super Bowl with the Chicago Bears in February 2007, coming off a season in which he had rushed for 1,210 yards, when the business of football intervened on his NFL career.
"I was having some issues with management with a new contract, just business stuff," Jones, 44, told Eric Allen on "The Official Jets Podcast." "It just so happened that I was in New York to appear in a fashion show the BET network produced called 'Rip the Runway,' they wanted me to model some clothes. I knew there had been conversations with several teams about potential trades."
He was headed to a rehearsal when he received a phone call from his agent, Drew Rosenhaus, asking him where he was.
"I told him I was in New York, and he said: 'Are you serious? You're not going to believe this, but the Jets want to trade for you," Jones said. "I had assumed we'd get something done in Chicago. But I said, 'That's great, I guess.' "
Instead he took a car from Manhattan out to Long Island, where the Jets were based at the time.
"Being into fashion and other things outside football, it was the perfect place for me to be traded," Jones said. "New York is the Mecca of opportunity and I was excited about the opportunity."
So after three seasons in Arizona, a pit stop with Tampa Bay and three more seasons with the Bears, Jones found himself on the runway of New York football in 2007, running and modeling in green and white.
"The first year was tough," Jones said. "I was coming off a Super Bowl year and we were 4-12. [Chad] Pennington was injured, we had a lot of young guys, the offensive line was like musical chairs and there was not much stability. I took a beating that year, but it's part of the position."
Even with those challenges, Jones managed to rush for more than 1,000 yards for the third straight season but had a lone TD to show for his efforts. In that first season with the Jets, Jones had four 100-yard rushing games. And over his three-year Jets career, his 16 100-yard games in the regular season are third-most in franchise history behind Curtis Martin (43) and Freeman McNeil (26).
It was a different story in 2008 after the Jets acquired quarterback Brett Favre from Green Bay and embarked on a 9-7 season with Jones running for 1,312 yards (4.8 per carry) and 13 rushing touchdowns, landing him a spot in the Pro Bowl. For the native of Big Stone Gap, VA, perhaps the Jets' most intense rivalry was new for him and a game against the Patriots at Foxborough remains one of his indelible NFL memories.
"Remember, I played in six different (divisions)," he said. "My first two years Arizona was still in the NFC East, then in 2002 switched to the NFC West. I was traded to Tampa Bay in the NFC South, then Chicago in the NFC North. Then the Jets in the AFC East and [two final seasons] with Kansas City in the AFC West. There are different rivalries you have to get used to.
"After that first game against New England ["Spygate" in 2007], I developed a hatred for the Patriots."
The 2008 season took Jones and the Jets to New England sporting a 6-3 record after three straight wins.
"That game was big," Jones said, referring to the 34-31 overtime win in which he rushed for 104 yards on 30 carries and a TD. "I remember sitting in the locker room after the game, emotionally and physically drained. I was in tears. I couldn't even move. I remember Jerricho Cotchery coming over to my locker and I was crying. I had nothing left. That moment to me was important in my career. It was my biggest moment as a Jet."
He followed that season with his most productive of his NFL career, rushing for 1,402 yards, scoring 14 touchdowns, a season that was highlighted by his 210 yards -- a franchise record at the time -- on 22 carries in an OT loss to Buffalo. That mark stood until 2018 when Isaiah Crowell had 219 on 15 carries vs. Denver.
"That year was a running back's dream," he said. "To have a great defense to get the ball back, have a great offensive line, great fullback [Tony Richardson] and a young quarterback [Mark Sanchez] learning on the go. But that still puts a lot of the onus on you as a running back to produce. But any running back wants to be in that situation, 25-30 carries in a game. That's why you're in the NFL.
"That year was probably the most fun I've had. I was 31 and felt like I had finally earned the right to be the guy. That season was the first I felt I was able to get the majority of the carries and have the weight of offense on my shoulders."
The Jets went to the playoffs, defeated Cincinnati and San Diego before losing to Indianapolis in the AFC title game, the first of consecutive losses one step from the Super Bowl. Jones signed with Kansas City in free agency and ended his NFL career after two more seasons. But life after the NFL has proved to be interesting, challenging and fruitful for the football player turned actor now known as Thomas Q. Jones -- the Q standing for his middle name of Quinn.
"It was difficult once I stopped playing," he said. "What do I do now? Even though I'm interested in so many other things I still had to find something I was passionate about. I was happy to fall into acting, it's not something I ever dreamed of doing. It helped me in so many ways. It helped me change my mindset as this over aggressive football player that sometimes didn't know how to turn that off to a more open-minded, more patient, more understanding person that can contribute to society outside an NFL locker room."
In addition to his production company, Major Entertainment Films, and a tech company that designed a mobile app, Castar for casting talent, Jones has appeared in films ("Straight Outta Compton") and on TV (cast as Comanche in "Luke Cage" and on shows like "Bosch," the lead character on "Johnson" on Amazon Prime and a football-themed series "Life After," also on Amazon Prime).
"I added that middle initial to my stage name to throw people off who knew me as a football player," he said. "It's very easy to be typecast as an athlete because they don't expect you to be able to do anything else as well. When I started, I wanted to come in as Thomas Q. Jones. I wanted to be known as an actor first. Thomas Jones ... I almost have to forget him, at least for time, until I'm able to earn the respect of people. Then I can be Thomas Jones from the Jets. It took a while for a lot of people to respect me as an actor. I feel like it's worked."