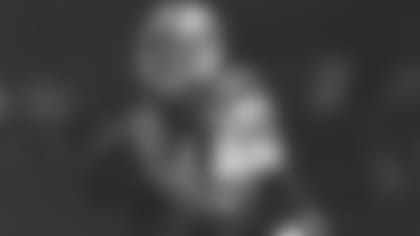 Richard Todd took a trip down memory lane last week, and he didn't have to travel far from his home in Mobile, AL, to get to that fabled football thoroughfare.
"Oh, it's really neat," Todd told newyorkjets.com's Eric Allen about the honor of serving as a gameday captain for Saturday's Senior Bowl, not to mention the game parade's grand marshal. "Angus Cooper is the chairman of the Senior Bowl. He and I are good friends. I guess he thought I'd be the only one to come down in the cold weather and do it.
"But I'm happy to do it. This game means a lot to me. When I played in 1976, I was supposed to be drafted in the fourth or fifth round as an athlete. And I came down here and had a really good ballgame and ended up going in the first round."
And going to the Jets, of course, in the first round of the draft. How did Todd elevate his draft stock so rapidly? In large part through a strong Senior Bowl showing on Jan. 11, 1976. Todd's South team lost to the North, 42-35, but Todd, who came in as Alabama's infrequently passing Wishbone quarterback, displayed a big arm that day. He completed 12 passes on 23 attempts, with the completions accounting for 332 yards and two touchdowns.
"We threw the ball like six times a game my senior year at Alabama, so this was totally different," he said. "I remember we had guys like Steve Largent — you could tell he was going to be a great player. And we had Mike Barber and Bubba Bean. The first pass I threw was a little 5-yard pass to Bubba and he went 80 yards for a touchdown. That's pretty good for your stats."
That's typical of Todd, never one to toot his own horn. The 82-yard connection with Bean still left 11 completions for 250 yards. Todd didn't receive the Senior Bowl MVP award — that went to his North team counterpart, Craig Penrose — and he didn't even take home the South's Offensive Player of the Game honor, which went to three-TD scorer Jimmy DuBose. But almost three decades later, Todd was selected to the Senior Bowl Hall of Fame, which came after his college and NFL careers were concluded.
What did he remember most about his first eight pro seasons as a Jet?
"I wish we'd've done better," he said, unprompted, immediately punching the reverse button on his mental videotape to that "muddy, nasty day" in Miami and the final playoff game after the 1982 season.
"The championship game. 'The Mud Bowl.' I threw five interceptions, and if they could've caught the ball, they could've had 10," Todd said. "We had a great defense, and that Miami game our defense played their hearts out. It wasn't really a day to throw the ball. But we had a great team — the Sack Exchange, Klecko and Gastineau and Abdul Salaam and Marty. And we had Wesley Walker, Jerome Barkum, Freeman McNeil, Bruce Harper."
Todd, despite deflecting praise to his teammates, deserves some as well for those days long ago. His two best seasons in green and white were his two playoff seasons, 1981 and '82, when the Jets went 18-10-1 including the postseason and he had his best Jets TD-to-INT ratio, 39-to-21 for those campaigns combined.
But they call it memory lane because it's built on memories, not current events. Todd has kept an eye on his first NFL team from his home down South. As this year's captain, he mingled with HC Robert Saleh and the Jets coaches handling the National team, and he predicted a big benefit for them observing this year's crop of top seniors under the Mobile microscope.
And he especially saw good things in the Jets' current first-round QB, Zach Wilson, taken second overall this past April, a mere 45 years after Todd was plucked by the Jets sixth overall in 1976.
"Zach's a great athlete. They've just got to be able to build a team around him," Todd said. "He's got all the throws, he's very mobile. You've just got to give him time."
And time hasn't dimmed his enthusiasm for his team of, as he said, "a long time ago." Did he have a message for current fans, who rooted him back in the day? Why as a matter of fact, he did.
"Go Jets," he said. "Jets-Jets-Jets."