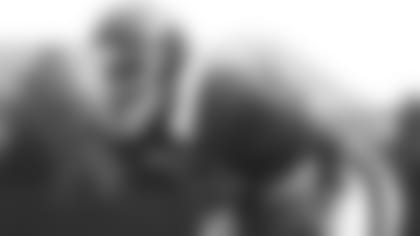 Marty Lyons used to wear a Jets helmet for his 11 seasons playing on the Jets' defensive line. Eventually the Ring of Honor member traded in the helmet for the figurative analyst's hat that he's worn for 22 years working with Bob Wischusen and calling games for Jets fans on the team's radio broadcasts.
But once a year at this time, Lyons puts on a helmet again. For the 10th consecutive year, he'll be wearing his bicycle helmet as he pedals East Side, West Side, all around the town, representing the Marty Lyons Foundation in the TD Five Boro Bike Tour on Sunday, May 7.
"I'm proud once again to ride the 40-mile tour alongside 40 other team members," Lyons says to prospective donors who will sponsor him on his charitable ride around New York City's five boroughs, to help his foundation, which helps foster hope in the children and their families make lifelong memories and creating a better tomorrow by granting a wish today. "We've raised over $650,000 and granted over 100 wishes through this event alone."
The bike tour brings cyclists of all skill levels from around the world together to roll through every borough of the city on streets totally free of cars. Produced in conjunction with the City of New York, the TD Five Boro Bike Tour has its own special cause, which is to fund free bike education programs reaching thousands of New Yorkers each year.
If you want to sponsor Lyons and his foundation, you may donate by clicking this link or by texting 23TDBIKE29 to 71777.
"I'll represent you on the ride," Marty says, "and your donation will be the fuel that keeps me pedaling."