Offensive POD**: With the offense backed up deep in their own territory, the must-see matchup on the outside was WR Brandon Marshall across from CB Darrelle Revis. After Revis won a couple of early battles in 1-on-1 and team, Marshall was eager to make amends. Ryan Fitzpatrick found a comfortable pocket and Marshall got behind the star cornerback. The ball was on the money and Marshall was gone for about an 80-yard score.
"He got the best of me a couple of plays and I got the best of him a couple of plays," Marshall said.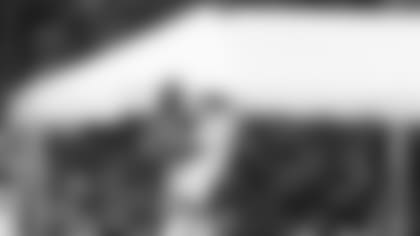 Defensive POD: While CB Juston Burris recorded his second interception of camp in a team drill and LB Julian Stanford had a pick-six of Fitzpatrick, S Calvin Pryor showcased his range on a Fitzpatrick pass to TE Jace Amaro. Pryor saw the play unfolding and then moved quickly to not only catch the ball, but also get his feet in bounds as well.
Chippy Practice: This was Practice No. 8 for the Jets and tempers boiled over, particularly for both Marshall and Revis. Head coach Todd Bowles, who said the chippiness extended up front to both lines, acknowledged this is about the time of camp when players can get frustrated.
"We are going to play football. Both of them got to where they were from making plays and neither player is going to back down," said the Jets' second-year head coach. "We like that about the competitiveness — we got to keep it clean."
"We're both pros, we're both competitors," Marshall said. "We come from the same neighborhood, cut from the same cloth. And we understand what happens on the field stays on the field."
Competitive Fire: At one point in practice, Marshall swung at Revis. The former spoke to the media following the session, saying the latter originally smacked the receiver in the face during 1-on-1 drills after Marshall gave a 1st down signal. Overshadowed was the fact that the future Hall of Famers were challenging each other on multiple occasions for the first time in camp. Revis had a pair of PDs early in coverage on Marshall and then Marshall came back for the long touchdown and about a 15-yard reception in front of Revis.
Revis Ramped Up:For the first time since offseason wrist surgery, Revis competed in team drills on back-to-back days. And he looked no worse for the wear, using his hand on multiple occasions in press situations.
"He's back… He's see everything amazingly," Marshall said. "He's breaking up a lot of balls. It's just being able to react. There were a couple of times even in 1-on-1s he slipped out of his breaks, but he saw it at the right time. So it's just a matter of time before he's the Darrelle of old. We're expecting big things again out of him obviously. He's the best corner in the league."
Quote of the Day: "It's football. We are not judging a beauty pageant," said head coach Todd Bowles. "You want some players that are chippy and know how to play and keep it clean, but you want them on edge."
PUP List: RT Breno Giacomini (back), RB Khiry Robinson (leg), WR Devin Smith (knee) & DL Muhammad Wilkerson (leg).
Day 8 Action at Jets Camp