Quincy Enunwa is a thoughtful, careful guy. Ask him about being THE No. 3 wideout in the Jets' offensive arsenal and his typical answer is "I'm just going to be a guy that's going to help our team be great."
But the numerology of his performance Thursday night in his eight plays of offense during the start of the Jets' 17-13 preseason win over Jacksonville is too tempting to let "Q" off the hook.
Consider that his back-to-back receptions on the same "rail" route to end the first quarter combined for 69 yards. That's the same yardage he had in last year's Game 15 overtime win over New England, also on two catches. We're mixing apples and oranges here, but doesn't it say something about Enunwa's emergence that he has set and then tied his single-game yardage best, as modest as it is, in the last three games he's played as a Jet?
"Yeah, I think I'm definitely building confidence," he told me in the Jets' locker room. "But I think also the quarterbacks, Ryan, Geno, all of them are getting confidence in me, and that's huge, you know? Whenever you can have that, it's going to be great for the team, and I'm hoping I can continue to build confidence with them and we can do some magical things this year."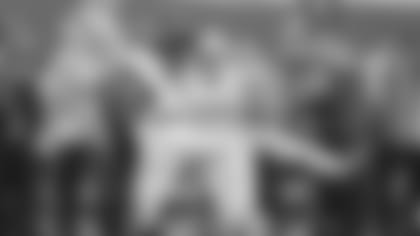 Certainly that's been on Ryan Fitzpatrick's mind. After the game the bearded one repeated his confident analysis of how this year's Enunwa is a new, improved version of last year's model.
"It's been very evident to me through the beginning of training camp that Quincy's going to be a big part of what we do and has really improved as a receiver," Fitzpatrick said. "He's so versatile and we saw that last year with everything we asked him to do. He can really develop into a big-time weapon for us."
Head coach Todd Bowles agreed about the versatility part when he compared Enunwa (in player skills, not body piercings, tats or nail polish color) to Basketball Hall of Famer Dennis Rodman earlier this year and then invited Rodman to a recent camp practice.
"Anytime you hear your head coach make comments like that about you, it definitely helps you on the field, so I appreciate him saying that, and I think it's cool that Dennis came out," Enunwa said, adding in his precise way that he's not perfect but he's striving to be.
"I'm going to go out there and scrap and make plays for the team. Sometimes you're not going to be able to do all the pretty work, but I want to go down there and do the dirty work. I'm not always going to be able to make those plays, but I'm going to do my best."
And when he does that, perhaps magical things will follow.