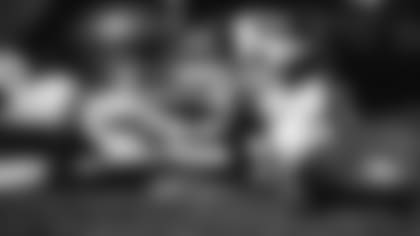 Ed Ingles, the longtime sports director at WCBS-AM whose mellow voice and friendly, professional personality painted many great radio sports pictures, including all the time he worked as the station's New York Jets reporter and sometimes gameday radio voice, died Friday. He was 87.
Ingles was a Bronx native who left the East for the University of Georgia and Georgia radio work before returning to New York radio. He joined WCBS in 1973 and worked there for 24 years, serving for many years as the station's morning drive sports anchor and also being involved in Jets pregame shows when the station first broadcast Green & White games from 1979-83. Jets games also aired on WCBS from 1988-92.
Besides covering the Jets, he also called St. John's University men's basketball as well as golf, tennis, horse racing and auto racing and worked several Olympics. He's been credited for pioneering radio sports updates during his 60-year broadcasting career.
Ingles explained last year to WCBS 880 program director Tim Scheld: "I didn't have a job, I had an adventure and the reason for that was, when I got up at 2 o' clock in the morning, I was happy to go to work."
And of his writing style, he said, "Scores are OK but I wanted to be a storyteller. I wanted every morning to have one or two good stories you could hang your hat on. If I could do that, either with tape or written copy, I was a happy camper."
Ingles' jauntiness and professionalism made a distinct impression on a young radio voice who would soon go on to bigger and better things.
"When I first started covering the Jets in 1996, Ed was a fixture at Hofstra in the media room, and I routinely sat next to him for all our Bill Parcells news conferences," said Bob Wischusen of ESPN, who's been the Jets' radio play-by-play voice since 2002. "It was surreal because it was the first time I was regularly working alongside someone who I literally 'grew up listening to.'
"I can honestly say Ed was about the nicest gentleman I've ever met in our business. For a 25-year-old kid at the time, working my first beat in New York sports, he couldn't have been more warm or kind. He was one of the good ones. I'll always be better for having known him."
Longtime Jets public relations director Frank Ramos concurred with Wischusen.
"Ed was one of the best sports newsmen anywhere," Ramos said. "Very fair and professional, a very good interviewer, and asked good questions at news conferences. He was what we would all call a 'good guy.' "
Ingles in recent years returned to Hofstra as the school's Professional in Residence, where engaged in another of his passions, mentoring students and young broadcasters at the school's radio station, WRHU-FM. Ingles is survived by his wife, Margaret, and his daughter, Diana. His son, Kevin, passed away in 2018 at age 35.