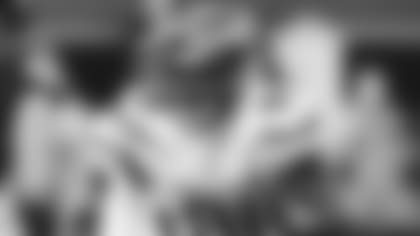 Confidence and comfort. Sounds like some old dude reading The Power of Positive Thinking in his man-cave La-Z-Boy.
But defensive lineman John Franklin-Myers had something a little more youthful and active in mind when he answered a question about how the Jets defense made the jump from the bottom of the NFL rankings to near the top in one season.
"I'd say comfort level," Franklin-Myers said. "On the defensive line, we had the same guys we played with last year. Linebackers were the same. Then getting some of those guys who played a lot of football, and then Sauce [Gardner] coming in and playing how he did.
"It just goes to show you that, one, you know you can do anything you put your mind to. But also, you have to be comfortable. You have to build that chemistry with these guys."
The Jets and their fans are well aware of the rise of the defense, from last in the league in points and yards to top-five in both, plus ranking No. 1 in opponents' TD drive rate. The fans also know, as well as Franklin-Myers, that there's still work to be done. JFM did a quick self-scout.
"Just starting fast, you know?" he said of his training program ahead. "I went through a little lull at the beginning of the season. Just understanding that my season goes as my offseason goes, I'm taking control of my body and myself and just being ready earlier."
A look at the numbers confirms that he started sluggishly against the AFC North start to the Jets' schedule with no sacks, one QB hit and a half-tackle for loss/no gain after four games. Then the home tilt with Miami signaled his '22 emergence with five pocket hits. For the final 13 games he had 4.5 of his five sacks and a career-best 19 QB hits.
His pass-rushing efforts inside and out supported what his coaches have said about him. JFM got three of his sacks and 11 hits from left end, while two sacks and eight hits came from his 3-technique position. When he did get a hit on the QB, the passing line was a puny 6-of-12 for 71 yards, an interception and a 33.7 rating. On his six third-down hits, opposing offenses failed to convert on all six.
Finally in the statistical versatility area, since taking the field as a Jet in 2020, Franklin-Myers is one of only four NFL players to total 40-plus QB pressures from both inside and outside positions and one of only three to notch seven sacks both inside and outside, according to Next Gen Stats.
"I think the best way to utilize his skillset is a little bit of both," coordinator Jeff Ulbrich said. "When he has an opportunity to do that, he's very dynamic. He's got maybe a little bit more power than a traditional edge guy so he can overwhelm a tackle in some ways, but then he's got more speed and quickness, change of direction than some of the insiders, so he can be a mismatch for guards, too."
Individual and team improvements are still needed, but Franklin-Myers embraces the duality of his D-line role and is eager to return to One Jets Drive this spring.
"We let some things slip away from us," he said of the last six games of '22. "Getting back to it, back to work with these guys, then getting some pieces on offense, we want to really make a run at this thing.
"You see the progress we've made and everybody getting comfortable with each other. It kind of goes to show you that we're just getting started."