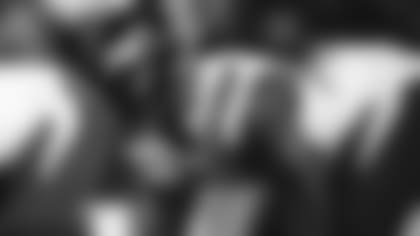 The Jets' 2019 season was rife with adversity, injuries and illnesses that had a huge impact on the team's 1-7 start. With the victory over the Bills on Sunday to close out the season, the Green & White ended the second half with a 6-2 record.
"It tells you what type of team we are and what type of team we can be," said defensive lineman Steve McLendon. "Now we have to make sure that we come out next year and we capitalize off this, what we just did. We need to keep this winning going. I feel like we can do it. Like I said, I believe in this team wholeheartedly. I'm excited for this team, even though we're not going to the postseason. But, it's still an opportunity for us to get healthy. There still are opportunities to see how the postseason will go and as we're watching, we'll be making sure that we're in it next year."
The 10-year veteran, who wrapped up his fourth season with the Jets, established himself early on as a leader in the locker room and was one of six team captains. In 16 games, McLendon recorded 35 tackles, 2.5 sacks and 1 FR. He was a dominant force along the line, which helped elevate Gregg Williams' defensive unit to No. 7 in the league in total defense and No. 2 against the run.
With six wins in the final eight games of 2019 — many of which were attributed to impressive defensive performances — the 6-3, 310-pound DL believes there is enough to build on for next season.
"Now we just have to keep it going," McLendon said. "We come back next year, and we have to do just what we need to do. No matter how the games go, we have to finish, we have to win on defense, and we have to put points up on offense. Complementary football is all we need to do. It doesn't have to be anything complicated, just have to keep playing complementary football with everybody."
This past October, the Jets signed McLendon to an extension through 2020. He's staying around and hopes Jets fans can see things through his eyes.
"Understand to stay with us," McLendon said. "The process is the process and the standard is the standard. We will not change. Our mind-set will not change."