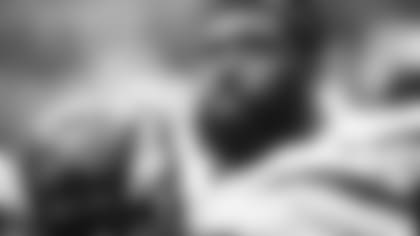 Take it from a big man who's been around the NFL block. Sheldon Rankins is a bye guy.
"The bye week's always helpful," Rankins, the Jets' veteran defensive lineman, assessed before taking some precious days off heading toward the team's Oct. 24 road date with the Patriots. "We come back out of it with the divisional opponent and everybody knows what we have to do there, so it'll be good for us.
"I think all in all, our guys will grow from this, guys will use this week to evaluate themselves, because at the end of the day, for the next 11 games or so, we're all we've got."
Of course this year it's for the next 12 games to make 17 for the season. But what is it that the Jets defense has got? Rankins sees a lot of good and much to still work on.
"I think we've been really good in some spots. At times we've looked every bit as good as we wanted to look," he said. "But then there are times where we're inconsistent. Whether it's assignment, miscommunications, just not finishing the play the way we need to, we've had some up-and-down moments. Some positive things to build off of and some great things to coach off of as far as negatives."
The Jets' defensive rankings through five games, despite being shaken, rattled and rolled by Matt Ryan and the Falcons in London, remain respectable. Their yards/game rankings are low (20th overall, 21st vs. run, 15th vs. pass) are low, but in keeping with a team with low possession time (26:46/game, 29th), their per-play rankings are better (ninth overall, ninth vs. run, 9th vs. pass). Their third-down defense ranks 10th in the league, their red zone TD defense fourth.
Rankins thought the quick-release game plan that Ryan used in leading Atlanta's productive offense (450 yards, 28 first downs, 9-of-14 on third downs) will be something the Jets see again as they continue their growth.
"They weren't going to sit back there and let Ryan get hit the way we hit [the Titans' Ryan] Tannehill and let us pressure him the way we pressured Tannehill," he said. "Knowing that, you have to adjust and understand that with the success that Atlanta had, you can expect a lot of teams to try attack us that way. And just understanding that, within self-scouting, just being able to go about developing certain rush plans and certain things to be able to generate quicker pressure.
"One of my best friends in this league, [Saints DE] Cam Jordan, he's always talking about, 'If they're going to get the ball out faster, I've got to win faster." At the end of the day, that's just what it's going to come down to. And in the D-line room, not too long ago, we just got finished having a conversation about this, but just put it on us."
That's because setting aside the bumps and bruises and mistakes that this young unit has endured so far, the Green & White's sage D-lineman says they're not making excuses for their youthful indiscretions.
"Everybody comes in here with the mindset, the thought process that each day's an opportunity to get better, to help this Jets team win games now," Rankins said. "And that starts at the top, and it's going all the way to everybody on this roster, and we'll continue that mindset throughout the rest of the season.
"We've got to go to war with each other each and every Sunday. And guys have got to be able to lock in and trust that the guy next to them is going to be locked in on their fundamentals, attention to detail. And when we do that, we're a pretty damn good defense."
See All of the Top Images from the Jets' Trip Across the Pond During Week 5