At 31 years old and and entering his ninth year as a safety in the NFL, Dawan Landry is the guy in the New York Jets secondary who can and will impart the most wisdom to the younger guys on the unit.
Over the course of the first three days of training camp, Landry could be seen talking to safeties Antonio Allen and Calvin Pryor after a play to offer them advice on their position or their reads in hopes of helping the younger guys' progress.
Today, Landry ventured over to second-year CB Dee Milliner during a positional drill to offer up his take on the situation.
"They're going through the game plans in their head and I'm just making sure we're on the same page, just making sure we're communicating and thinking about things before they happen," said Landry, who has more NFL experience than Allen, Pryor and Milliner combined. "I'm trying to help them pick up the game faster."
Maybe it's his experience working in Rex Ryan's defensive scheme from the time Landry spent with the Jets head coach while they were both members of the Baltimore Ravens. Perhaps it's his tenure as a safety in the NFL. Either way, Landry will continue to pass down everything he's learned to his teammates.
"I'm giving general knowledge to each and every player out there with us," Landry said after today's training camp practice at SUNY Cortland. "I'm making sure we're bonding and making sure we're on the right page, working to get better with a common goal."
Landry said the biggest piece of advice he's offered the members of the secondary, especially Pryor, is to embrace the opportunity they have before them.
"Just go out there, man, and have fun," he said. "Never take it for granted. Just get better each and every day."
Although it's an important role for our secondary, Landry is more than just a mentor. He's also out there looking to make plays.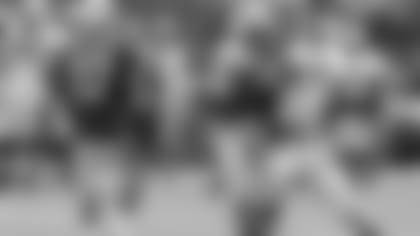 On the first snap of team drills, he came off the edge and collided with bruising RB Chris Ivory at the line of scrimmage for one of the memorable hits of the first padded practice.
During the offseason, Landry said that he was able to bulk up, but did not intend to do so. It happened as a result of an old habit he is not quite ready to shake.
"I'm a gym rat, really. I just like to work out," he said. "It just happened to work out that way. I added a few pounds of bulk, and I feel good right now."
Landry, who had a good season for the Green & White in 2013 in which he unofficially recorded 100 total tackles and seven pass defenses, said that when he's not practicing or working out, he's stretching with the other defensive backs, hanging out in the cafeteria, or getting to know his other teammates, especially his roommate LB Antwan Barnes.
He also said that many members of the defense have followed LB Demario Davis' lead and started watching extra film together.
"It's great right now," he said. "Everybody is bonding. It's a fun group, fun year."
---