The Jets kicked off their Play 60 Challenge powered by NRG at Generation Jets Academy at PS 306 in East New York, Brooklyn, on Tuesday afternoon. Jets rookie linebacker Demario Davis and third-year guard Vladimir Ducasse attended the event and spoke to an afterschool program of 60 students stressing the importance of physical fitness and eating healthy.
"The Jets as an organization, they have been committed to working with the school system and working with our students and we're just pleased that they're here," said Dennis Walcott, chancellor of the New York City Department of Education. "It means a lot because they're talking about fitness and wellness and that's what we're talking about with our students, making sure they find different ways to be physically fit. We have our 'fitness grams,' so having Jets here is really just a great partnership that we always celebrate."
Before Davis and Ducasse addressed the group, students received a Jets Play 60 Challenge Game Planner. The planner is where the students will record their daily time spent on exercise. It also includes tips and challenges that look to help the students reach their suggested mark of 60 minutes of daily exercise. Some of the challenges listed are games such as monkey in the middle, hide and go seek and run away, bedroom ball, and scavenger hunts. Walking, jogging, running, football, jumprope and dancing are recommended activities.
"I used to love those days of just being able to go outside," Davis said. "I always loved those days most, the PE days, all the way through school, the recess, the PE time. It brought back a lot of memories with these kids just being out here playing around and having so much fun. It was a lot of fun back then doing those things."
The students were quiet until the teammates introduced themselves. With strong enthusiasm in his voice, Davis asked, "Are y'all ready to have some fun?" He also stressed to them that while exercising should be important, it also needs to be enjoyable.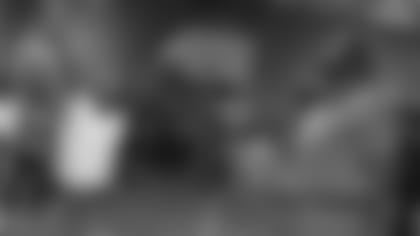 "I love kids," he said. "I come from a family where I had a whole bunch of little cousins. So you just learned a lot of different antics and stuff just to get them going and to get them excited. I knew they wanted to have fun and I knew what they were excited about."
The students asked the duo questions prior to the start of physical activities, ranging from the experience of working with backup quarterback Tim Tebow to the hardest part of being an NFL player. One student also asked, "What if someone gets hurt in football?" Ducasse responded by talking about an injury he suffered last year.
Following the Q&A session, the students split into six groups and rotated among shooting basketball, jumproping and footwork drills. Davis helped out with basketball, while Ducasse positioned himself at the footwork station.
"They were just asking me a lot of questions," Ducasse said, "but I was just pretty much telling them, do your exercise, stay healthy. As I was making them do drills, they were like, 'You do this all day?' I was like, that's the whole thing: Do your exercise. You have to be about doing it for a long period of time."
In 2002, the New York Jets adopted one of Brooklyn Community Services' Gary Klinsky Children's Center afterschool programs at PS 306 in East New York as the "Generation Jets Academy."
The students in the current afterschool program ranged from the fourth through eighth grades and came from four different schools — PS 21, PS 91, PS 149 and PS 306. If the students complete the challenge of 60 minutes of activity each day, they will receive incentives provided by NRG Energy and the Jets, including a chance to attend the Jets' home game on Dec. 2 against the Arizona Cardinals.
Davis and Ducasse will return to the school in four weeks and find out if their message Tuesday translated into positive results.
"I hope a lot of them will be able to have made some progress," Davis said. "Realistically, maybe 40 percent of them will probably be done with what they're supposed to do. Maybe 20 percent did a good job at it. But you just hope as many of them learn from it as possible."
Added Ducasse, "They're excited for us to come back already."