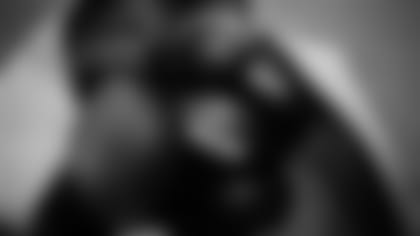 As reported Friday, the Jets will be without CB Darrelle Revis for today's game against Miami at MetLife Stadium.
Revis, who suffered a concussion late in the third quarter at Houston last week, will give way to Marcus Williams on the corner. From the standpoint of takeaways, there won't be a dropoff, since Williams leads the Jets defenders with four interceptions (to Revis' three) and is second with five takeaways (to Revis' six).
Other than Revis and S Dion Bailey (ankle), the Jets appear to be in good health to take on the Dolphins on this day during which the team will induct its 16th and 17th Ring of Honor members in Emerson Boozer and Matt Snell and will also honor returning members of its Super Bowl III championship team led, as always, by QB Joe Namath.
C Nick Mangold (hand), who missed more than a half of the Texans game, is active, as is DE Sheldon Richardson (hamstring), who sat out Houston.
The Jets' full list of inactives for the game:
And the Dolphins' inactives:
■ LB James-Michael Johnson
The Jets will be in green jerseys and white pants. They've worn green/white only once this year under head coach Todd Bowles (who prefers white jerseys). But they've been successful the last two times they've won green/white — Game 8 this year against Jacksonville, a 28-23 victory, and Game 16 last year at Miami, a 37-24 pullaway win.
The referee today is Bill Vinovich, who has presided over six previous Jets games since 2004. Only one of those six was a Jets victory — by 26-13 at Minnesota in Game 14 of the 2006 season.
Many of the Jets in that game are in the house today, since this is Jets Homecoming with many players from the team's recent and distant past on hand. Also at that '06 game was Vikings starting LB Erin Henderson, who is playing for the Jets now.