Darrelle Revis spoke with reporters today before the first practice of the Jets' mandatory minicamp, and the premier cornerback said he fought through his wrist injury last season, the timetable after his March surgery is to be ready for training camp, and he's not changing up how he plans to play the position in 2016.
Revis said he couldn't pinpoint exactly when or how he ruptured a tendon in his wrist.
"Especially when you play defensive back, we're always using our hands," he said at his locker this midday. "Whether I fell to the ground or I was jamming somebody or getting off a block, I don't know. I just know it was painful when it happened and we went from there."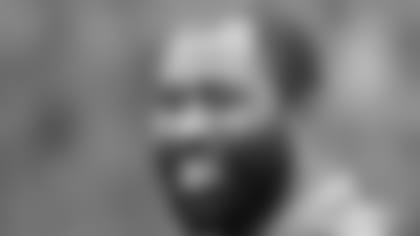 Revis said he spoke to head coach Todd Bowles about the injury and obviously got treatment from the Jets' trainers, but said "that's on me" as far getting ready to play each week. He started 14 games for the Jets and the only two games he missed, Game 11 against Miami and Game 12 at the Giants, were due to a concussion.
"I persevere through things," he said. "I'm just not going to let a wrist ... if I can run, if I can move around and still play at a high level, then I'm going to be out there."
Revis said he rested his body after the season — he was selected for his seventh Pro Bowl and his fifth as a Jet but sat the game out — then got his wrist "double-checked" with an MRI, which showed the ruptured tendon. With that repaired, he said he's rehabbing now with an eye on the July 27 reporting day for the start of training camp.
"I've still got a lot of ways to go, especially over the summer, to get it 100 percent," he said, "but I've just got to keep on stabbing it and working on it."
Bowles was asked at today's news conference if he thought Revis would be ready to roll on day one.
"I said before, when he's ready, he'll come back," Bowles said. "He's doing all the right things, but without hitting anybody with it, you won't know for sure. I don't know whether it'll be the beginning or sometime during."
Revis likes how his secondary and his defense have looked so far this spring and he plans on contributing at his usual high level. He said he doesn't listen to outside voices who say he may have lost something off his fastball. And he certainly had metrics to rebut any whispers, such as his team-high nine takeaways and a Pro Football Focus calculation of allowing an NFL-low 46.5% completion rate on receivers he covered last year.
"That's not going to hinder what I do or bother what I do or change what I do. I'm fine. I'm fine," he said. "I'm going to play, man, until the wheels fall off, hopefully. We'll see."