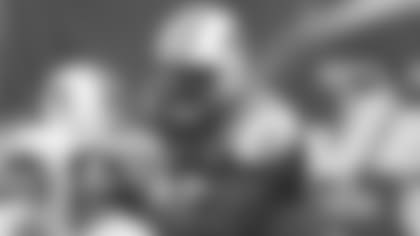 Jets legends D'Brickashaw Ferguson and Calvin Pace will serve as the team's two Nunn-Wooten Scouting Fellowship participants and Steelers' great Hines Ward is among the Green & White's quartet of Bill Walsh coaching interns.
Ferguson, the team's No. 4 overall pick from Virginia in the 2006 NFL Draft, was a three-time Pro Bowler. The left tackle never missed a game or start and his 167 consecutive starts are second in franchise annals. Pace, who played in Arizona his first five professional campaigns, joined the club in 2008 and appeared in 120 regular-season contests over eight seasons. Always considered one of the best edge-setters in football, Pace's 46 sacks and 16 forced fumbles rank fifth and third, respectively, in team history.
The scouting fellowship, named in honor of Bill Nunn, longtime personnel director for the Pittsburgh Steelers, and John Wooten, a former NFL player and front-office executive, is part of the NFL's Football Development program.
A third-round pick out of Georgia, Ward went on to play 15 seasons for the Steelers while capturing a pair of Super Bowl titles. Ward is Pittsburgh's all-time leader in receptions (1,000), receiving yards (12,083) and touchdown catches (85). Former Jet wideout David Clowney IV, Stephen Bravo-Brown and Damon Reginald Wilson will also take part in the Walsh minority coaching fellowship.
Clowney IV was drafted by the Green Bay Packers in the fifth round of the 2007 draft before heading to the Jets in October of the same year. From 2007-10, he caught 16 balls with the Jets. Clowney IV currently serves as the WRs and TEs coach and co-coordinator at Howard University.
Bravo-Brown, who is Missouri State's assistant WRs coach, began his coaching career at Waldorf University in Forest City, Iowa. He later became a graduate assistant coach at Wake Forest from 2017-18 after initially holding the position of offensive quality control coordinator in 2016.
Entering his eleventh year as the head coach for the Bowie State Bulldogs, Wilson was an all-conference tight end for the Bulldogs in 1998. He stepped into coaching the following year when he served as an assistant head coach at Bowie State from 1999-2003. Wilson also had coaching stints at both Texas Southern University and Prairie A&M University.