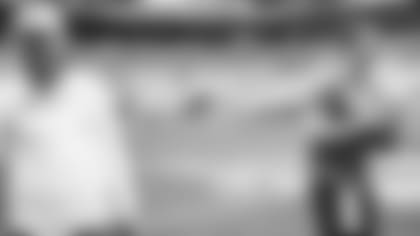 Throughout the season, NewYorkJets.com reporters Eric Allen, Ethan Greenberg, Olivia Landis and Randy Lange will each give their predictions to a series of questions regarding this year's Jets.
Today's question: Could Jets-Dolphins turn into a Sam Darnold-Ryan Fitzpatrick Shootout?
EA: The Jets-Dolphins series certainly has featured some high-scoring classics over the years. In Week 3 of the 1986 season, the Jets outlasted the Dolphins, 51-45, in overtime as the clubs set an NFL record with a combined 884 net yards passing. Dan Marino's 6 TD passes weren't enough because Ken O'Brien went for 479 yards and Wesley Walker became the first Jet to record 4 TDs in a game. "The Monday Night Miracle" in 2000 was an epic that saw Vinny Testaverde and company rise from a fall slumber to explode for 30 points in the fourth quarter and eventually capture a 40-37 victory in overtime.
What's going to happen Sunday? Signs point to a high-scoring affair. While the Jets were held to 6 points last week in Cincinnati, they scored 34 points in their previous two home games. Sam Darnold and Robby Anderson have found their stride and the Green & White is set to face a defense that is 32nd in scoring (31.4 Pts/G), 32nd in sacks (16), 31st in rush defense (143.5 Yds/G) and 23rd in pass defense (256.2 Yds/G). The Jets are dealing with a ton of injuries in the secondary and gunslinger Ryan Fitzpatrick, 37, thinks he's playing better than ever. The 'Fins have averaged 27 points over their past three games and DeVante Parker is on a tear. Statistically, these are the lowest-producing rush units in the league. With a favorable forecast for Sunday, the airwaves will be busy at MetLife Stadium. 
EG: Easily. Since Week 9 when these teams first met this season, Fitzpatrick and Darnold rank among the Top-10 in the NFL in passing yards (No. 5 and No. 6) and touchdowns (both tied for No. 7). Fitzpatrick's 65.1 completion percentage edges Darnold's 64.2 mark, but Darnold's 97.7 passer rating, which ranks No. 10, is better than Fitzpatrick's 88.0 (No. 12). The Dolphins defense ranks No. 23 in pass defense and allowed 310 yards and 3 TDs through the air to the Eagles last week. The Jets are banged up in the secondary and could be without safeties Jamal Adams and Matthias Farley, and cornerbacks Arthur Maulet, Maurice Canady and Brian Poole. The difference in Sunday's game could be turnovers. Darnold has thrown 10 picks this season compared to Fitzpatrick's 11. In the Jets' Week 9 loss to the Dolphins, Darnold was the only QB to throw an interception, and both teams had a safety.
RL: A Sam/Fitz shootout sure looks like it could happen, which is probably why it won't. But consider that Darnold has improved his passer rating from 66.2 in his first four games to 97.7 in his last five and has completed 20 passes of 20-plus yards in those last five games. What he can really use is some protection from his O-line, and who comes calling at MetLife but the Dolphins, last in the NFL in sacks (16) and next-to-last in QB hits (51). So it seems that Darnold could find his receivers, who've remained mostly healthy, down the field for scores. And we know Fitzpatrick can do that, especially with WR DeVante Parker (who's averaging 10 targets, 6 catches and 114 yards the past four games) and TE Mike Gesicki (6 catches for 95 yards vs. the Jets in Game 8), and with the NFL's 32nd-ranked ground game. So let's stage a MetLife shootout that ends with some Jets score settling in this recently unbalanced (Miami's won the last four) rivalry.
OL: All signs point to it playing out that way. In the first matchup between Darnold and Fitzpatrick, in Week 9, the Dolphins came out on top with a 26-18 victory. Miami's QB — who previously played for the Green & White from 2015-16 — proved that day why he earned the nickname "Fitzmagic" as he completed 66.7% of his passes for 3 TDs. After 13 weeks of the regular season, Fitzpatrick and Darnold's stat lines are nearly identical. Darnold, 22, ranks 21st in completion percentage (63%), tied for 23rd in TDs (13) and tied for 23rd in interceptions (10). Fitzpatrick ranks 22nd in completion percentage (62.8%), tied for 23rd in TDs (13) and tied for 26th in INT (11). If Darnold and the offense can establish a rhythm quickly in the passing game, they could present a challenge to the Dolphins' defense that allows an average of 256.2 passing yards per game.