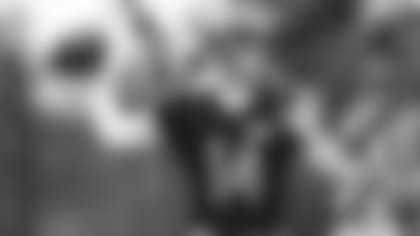 Sam Darnold hasn't let his confidence waiver in the midst of the Jets' tough first-half outing this season. Entering Week 10's matchup against the Giants, Darnold has grown comfortable with the offense and is letting his voice be heard.
"Yeah, just after getting a feel for the offense and the first year being in the system," said Darnold on his communication with the coaches about what he likes. "I have gotten a way better feel of the offense and what I like and dislike, so I kind of voice my opinion there."
Since entering the league in 2018 as the Jets' third overall pick in the Draft, the 22-year-old QB has had to learn two different offensive systems from multiple coaches. After starting nine games last season before suffering a foot injury that kept him out three games, Darnold excelled in the last quarter of the year while throwing for 931 yards, six touchdowns and just one interception — proving he is more comfortable in a system the longer he is in it.
In five starts this season, Darnold has completed 63.2% of his passes for 1,077 yards with six touchdowns and nine interceptions. Over his last three games, Darnold has hit on 58% of his attempts with three touchdowns and eight interceptions.
"Those first few weeks playing, you are really trying just to feel it out," Darnold said. "And then once I feel comfortable enough to feel like I know exactly what I am seeing out there and how fast I get through progressions on some plays versus others, that is kind of what I am looking for. I just voice my opinion that way because coaches want to know what I am comfortable with."
He added, "I think having the same system two years in a row would definitely benefit for sure."
The 6'3", 225-pound Darnold is also optimistic about the likely return of second-year tight end Chris Herndon to the offense. Herndon, who was a full participant in practice this week for the first time all season after being kept on the sideline due to a suspension and hamstring injury, was a popular target for the USC product last season. In their rookie campaigns, Darnold connected with Herndon on 39 receptions for 502 yards and four touchdowns.
"He is just a really big body to throw to. He is a really good tight end and really good pass catcher," Darnold said of the Miami product. "He naturally is a good target down there, especially if you get him matched up with a linebacker, or even if he is matched up on a DB you can put it on his body and he can go up for a rebound and catch it. Chris is a huge threat and like I said we are looking forward to him being out there."
Despite the 1-7 start to the season, the second-year gunslinger and the Green and White will have an opportunity to turn things around this weekend against their cross-town rivals, whose defense ranks 29th in scoring 28.3 (Pts/G), 28th overall (391.4 Yds/G) and 25th against the pass (263.6 Yds/G).
"For me I am confident in my game and how I prepare so with that being said, it is not going to waver," Darnold said. "I feel good, we just need to win. We need to win and our team knows it, but again, we are not treating this week any different than any other week, we are just looking forward to going out there and playing football."