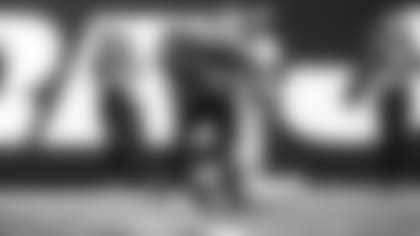 The Jets officially claimed New York City bragging rights following their 34-27 victory over the Giants at MetLife Stadium on Sunday. And one player who especially contributed to the thrilling win for the Green & White was wide receiver Jamison Crowder.
A popular target for quarterback Sam Darnold in their six starts together, Crowder recorded five receptions for 81 yards and a touchdown Sunday — his second consecutive TD connection with Darnold in as many weeks.
"I think that we have really good chemistry right now. There's room for improvement and room for growth but I think for the most part we've been on the same page," Crowder said of the 22-year-old QB. "I just try to be a reliable option for him out there on the field."
Adam Gase and his offense quickly fired off 14 unanswered points in the first quarter and the second scoring drive concluded with a short pass up the middle from Darnold to Crowder, who ran it in for a 23-yard TD. The Jets took a 14-13 lead into halftime and lost the lead in the third quarter only to reclaim it in the fourth as Le'Veon Bell ran the ball in for a 1-yard TD to give the Green & White a 31-27 lead. Sam Ficken later connected on a 35-yard field goal with 7:36 to play to extend the Jets' lead by seven points.
"I thought we responded really well. We went down and scored in the first drive. That's a good thing and that's us progressing, compared to what we were doing earlier in the year when we couldn't get anything going," Crowder said of the Jets' back-and-forth showing. "Now we have to get to the point where we can score on the first drive and then put another drive and another drive together. I thought we played well. We have some things we need to clean up but we'll just go back and watch film and clean it up this week."
The 26-year-old Duke product is in his fifth professional season but first with the Jets, and currently leads the team with 48 receptions and 486 yards. He also ranks second on the team with two receiving touchdowns. In the three contests that Darnold missed due to a bout with mono, Crowder recorded just eight receptions for 75 yards. Since the young gunslinger's return against the Cowboys, the 5'9", 177-pound receiver has had three games with over 80 yards and has totaled 312 yards on 26 receptions while being targeted 34 times.
"I just try to come in and do my role. My role is to catch passes early and to try and get things going and I'm cool with that," Crowder said. "Any time you go out there and get a win in a game like that, I think it shows a lot of character and a lot of resiliency. That gives everybody confidence."
With the team's second win in the books, the Jets will look to build off this victory as they hit the road next Sunday to take on Crowder's former team, the Washington Redskins.
"I know it's huge for the fan base and I know it's huge for us," he said. "Obviously, to get a second win and to find some momentum as we finish out this back stretch of the year is huge."