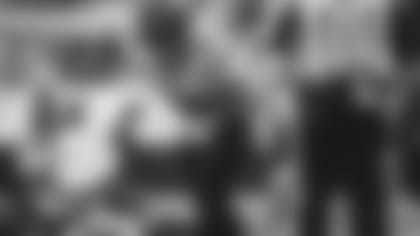 Up in the CBS-TV broadcast booth for the past three games, analyst Charles Davis (working with Ian Eagle) has met the New Jets, and they are demonstrably not the Same Old Jets.
"Things have changed," Davis told team reporter Caroline Hendershot. "They're going to be a hard out from here on out. These aren't the Same Old Jets anymore."
Davis has been an analyst for CBS since 2020. He has also been one of the commentators on the Madden NFL video game since 2017. And from his recent vantage point watching the Jets, Davis said their victory over the Buffalo Bills was impressive and significant.
"At the risk of sounding like I'm piling on, the contrast was Zach [Wilson] taking care of the ball," Davis said. "In the first half against New England, he was sharp, decisive. Then things unraveled [with three interceptions] and things started to go south.
"In this game [vs. the Bills], he stayed tight, compact, even when he moved. And I thought that [offensive coordinator Mike] LaFleur did a really nice job getting him comfortable early with crisp, easy-to-complete throws. His confidence rose as the game went along. In my mind it was his best game as a New York Jet -- start to finish. The only turnover was the strip sack by Von Miller and that's happened to a lot of people who are going to wear gold jackets in the Hall of Game. But it didn't rattle him or shake his confidence. He played a full 60 and made a big difference in this ballgame."
Wilson was a tidy 18 of 25 for 154 yards and 1 TD pass. Since he returned from a knee injury sustained in the preseason, the Jets (6-3) have a 5-1 record and play next at New England on Nov. 20. They (and Miami) are only a half-game behind first-place Buffalo in the AFC East.
"This is a team that is learning how to win close, tough, gritty, messy games, whatever catchphrase you want," Davis said. "Those are the types of games the Jets are playing. There have not been a lot of games where there's sprinting going on." He added: "Some teams that run from the front, Buffalo and Kansas City, are used to doing that. It's not the Jets' style. Make it messy. Make it grimy."
One of the key features of the Jets' ascendent 2022 NFL season, has been the team's play in the fourth quarter. They have outscored the opposition by 84-26 and this week moved into the top 10 of the Power Rankings on NFL.com, up from No. 14 to No. 9.
"One last thing was how they closed the game down at the end," Davis said. "Last drive [13 plays covering 84 yards leading to Greg Zuerlein's game-winning field goal], eight straight runs with the O-line, tight ends and receivers involved. The big people up front mashed them, dented them when the game was on the line. They turned it over to the defense, and because the coverage has been so good this year with the corners [top rookie Sauce Gardner and veteran D.J. Reed] and safeties [Jordan Whitehead and Lamarcus Joyner], it allows the guys up front to go get them. It decided the ballgame."
The Jets defense, which ranks seventh overall, fifth in yards per play, and tied for sixth with 14 takeaways, has set the tone throughout the season.
"This is a defense that will travel, week in week out it's a constant," he said. "That secondary is so much improved from last year that [defensive coordinator Jeff] Ulbrich can call what he wants to call because the front is going to be turned loose. Ten guys to rotate in. And [Bryce] Huff maximizes his snaps. He caused an interception against New England and finished it off last week by knocking the ball out of Josh Allen's hands. When Huff is on the field, things happen. Quinnen Williams is playing at a Pro Bowl level. I think Sheldon Rankins is having his best year as a pro. John Franklin-Myers is a constant pressure. Pick a guy, they're doing it. [Jermaine] Johnson wanted back into the conversation, and got back into it on Sunday [with a key sack of Allen].
With all his enthusiastic words around the Jets stalwart defense, Davis saved some of his compliments for the offensive line, and specifically for Nate Herbig, a k a Nasty Nate.
"It's been a curious story with Herbig, I remember him as a freshman at Stanford, he was a starter right out of the gate, this big body at an academic school," Davis said. "The way Stanford likes to play the game under David Shaw is they want to beat you up on the line, in the run game. The anomaly is that people think of Stanford as this genteel, intellectual, think-tank type of school, but they wore T-shirts that said 'The Home of Intellectual Brutality.' That was Herbig from the beginning. So, it was a stunner that he would be that guy as a freshman then go into NFL as an undrafted free agent. He found a way in Philly and has really found a home with the Jets. It took some doing, And with all the injuries [on the offensive line] you'd think there would be a lack of continuity. But what's amazing to me is that what should be a lack of continuity has not really derailed this offensive line. These guys are coming together and getting better with every snap, not just on the practice field, but in every game."